Bound In Public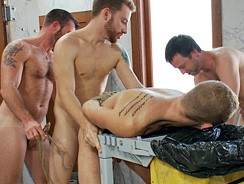 JUB Site Rating:
0 total vote





Bound In Public's Billing & Pricing
Bound In Public's primary billing processor: 2000 Charge
$34.95 per month
$69.95 every 3 months
$117.95 for 6 months
$169.95 for 1 year
VISIT Bound In Public NOW!
When you sign up to Bound In Public you are not so much joining a site, as starting a new way of life. Just make sure you get the full membership plan so you get access to all the extras and bonus sites because this site comes to you form the massive Kink company and they know how to run a good membership site.
Bound In Public, as the title suggests, is all about public BDSM. Here you find a guy who loves being the centre of a lot of attention, and around him is a group of other horny, hard men who want to play dirty and have fun. But these are not orgy scenes, it's usually only the one bottom, sub, slave guy who is the centre of attention, the other men take in turns to use and abuse him. And they are often doing it with even more guys looking on. The BDSM aspect can get pretty extreme too, with clamps and ropes, ties and chains. There are guys hung upside down, in slings, hanging from urinals, being fucked by a group in a bar, getting a face full of cum from a load of other guys, and some scenes even take place inside shop windows. Best thing is to check out the tour and you'll see how crazy and wild this all gets.
But once you've seen the tour you will want to know what the members' area is like. Well, I can tell you that it is well designed, easy to use, and packed with good stuff. There are the 84 exclusive scenes to watch for a start, and updates are happening every week, so that number is growing. You can stream these movies in a choice of three qualities to suit your connection, or you can download them in Mp4 and WMV, where there is an HD version at 7.15 Mbps @ 1280 x 720 to take. Filming and presentation quality is great, the sound is fine, the movies run for good lengths of time and you even get a trailer to check out before you commit to a full scene download. Each movie comes with sets of images as well, and these too are good sizes and great quality. There are zip downloads, a choice of high or low res images and Piclens is in use if you have it.
As a member you are able to rate each scene and comment on it, and other members' comments are also shown, so you can enter into online discussions about the kinky porn. Or you might like to go further and join the Kink forums, you will see the links at the top of your page. Up there you can also find a drop-down lists of bonuses sites, Bounds Gods among them, and a link to your account so you can check your status. There is a calendar of updates, links to support and other handy interactive items to explore.
And also included in your membership is access to the exclusive live shows. The time and date of the next one is shown on your main banner and while you are watching you can open the live chat and really get to know other members and even some of the models. It's a brilliant addition to a brilliant site.
Bottom Line:
It's hard to sing all the praises that Bound In Public and the Kink network is worthy of in one short page, but I really do urge all BDSM fans to check this site out. It's growing week on week, the quality is fab, the bonuses and extras, live shows and interactive options all add to your perfect viewing experience, but most of all, it's got some horny, crazy, sleazy, cum-pig and hardcore action that you won't see anywhere else.
VISIT Bound In Public NOW!
VISIT Bound In Public NOW!