Chaos Men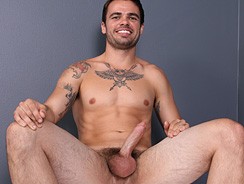 JUB Site Rating:
6 total vote





Updated: 2014-05-06
Primary Categories: College Men
Secondary Categories: All American Boys, Amateur, Bareback, Bears, Big Muscles, Erotic Massages Handjobs, Gay Hunks, Glory Holes, Hardcore, High Definition, Straight Men, Video Downloads, Video On Demand
1716 Galleries
1779 Videos
Chaos Men's Billing & Pricing
Chaos Men's primary billing processor: Ccbill
$24.95 for 20 days recurring
$29.95 for 30 days non-recurring
$59.95 for 90 days non-recurring
VISIT Chaos Men NOW!
I've not been to see Chaos Men for a while but each time I do I get that Wow! factor that is rare to find when you spend every day looking at adult sites. Well, this time when I went back to what is one of my favourite sites I got an even bigger Wow! factor. Everything looks even better than it did before, apart from the men; they can never look better than they did before, but they do look just as good. The site specialises in first time amateur guys, many of whom are straight. There are solos and hardcore action now and great quality viewing is to be had.
There are 510 men on the site now and they appear in 1,332 movies. The first one dated back to 2005 and was a solo, as a lot of the earlier movies were. Hot straight guys stroking one off exclusively for the site, and with each scene available to stream in Flash and download in WMV and MP4 format. Don't expect the older scenes to be HD, it wasn't around then, but expect the quality to be good throughout the site. Coming right up to date and the most recent update, which had been added on the day before my visit, and we've got the same viewing options but higher resolutions, with top files being at 1,024 x 720 @ 2,300 kbps, and slightly smaller versions also being available depending on age and file format. Downloads were simple, and streams were fast and easy. Movies run for around 15 minutes each on average.
The members' area has some really neat features and functions and is one of the best when it comes to letting you get involved and personalise your site. Check a viewing page for a movie and you find: three WMV downloads, four MP4, Phone, Mac versions, four streams with an auto detect function for easy viewing, a quick preview to check out, linked key words to help you find more of the same, interviews and chats with the guys before the fun starts, rates you can give, an add to favourites function, a feature where you can put a movie in your queue and come back to it later, photos with zip files and easy on-line viewing at up to 683 x 1,024 in size, screen caps as well, and even some animated gifs of the guys stroking. There is a whole range of interactive functions here, and plenty of ways for you to get involved. The guys behind this site go more than the extra mile to bring you info and a great viewing experience.
Chaos Men goes further than most other adult sites in bringing you a value and interactive membership,. There is an 'Xplore' area where you can find out more about what and who is behind the site, you can manage your viewing history as well and you can check out the models in the model index. This, for me, is one of the best features as you can browse the guys by face/body shots. Though slightly small they link to detailed pages. You find out about each guy with a written intro and some interesting stats and then you link to his videos. And those videos now are still geared towards amateur straight guys, but there are more and more hardcore scenes coming up with straight men having their cherry popped, and there are even some threesomes to view.
Yes sir, I really enjoyed my return visit to Chaos Men, now even bigger and better than before. Great interactive functions, great ways to personalise your experience and, as always, great to see the hunky and cute, amateur straight guys.
Bottom Line:
You are looking at a good value membership here with plenty of solos and loads of hardcore as well. Straight guys' first time on camera, and some straight guys' first time with gay guys too. Nice variety, nicely interactive with a good design and clearly a leader in the field of gay, amateur model porn. Grab a membership and keep it.
Tags:
Amateur, Straight, Solo, Masturbation, Hardcore, Exclusive, HD, Virgins, Gay for Pay, Erotic Massages, Handjobs, Blindfolds, First Time Guys
High Definition Yes (recently)
DRM Free Porn Yes
Downloadable Yes
Content Format Videos with galleries, models
Live Shows No
Bonus Content No
Multiple Site Hub No
Content Updated At least twice per week
Safe Sex Notice:
This gallery contains images of unsafe sex practices, also known as barebacking. Engaging in sexual practices without the use of a condom is a risky and unnecessary behavior. There are a lot of studios including the one listed on this page that film bareback or have bareback scenes in their content libraries. The images presented below should only be used for fantasy and you should not deceive yourself into thinking that "everyone is doing it." Further, you should not assume that just because you see photos or film content of barebacking that sexually transmitted diseases have been miraculously cured. HIV and other sexually transmitted diseases are very real and potentially lethal. Please practice safe sex in your own life and educate yourself regarding the dangers of not wearing a condom before having sexual encounters. Visit AMFAR for more information about safer sex.
VISIT Chaos Men NOW!
VISIT Chaos Men NOW!