Office Cock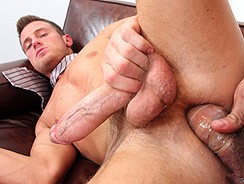 JUB Site Rating:
0 total vote





Office Cock's Billing & Pricing
Office Cock's primary billing processor: In House
$1.00 for a one day trial
$24.95 for 30 days recurring
$58.96 for three months
$95.40 for 12 months
VISIT Office Cock NOW!
Office Cock has 36 exclusive scenes all to do with sex in the office, and they are very good, but the site has not updated since April of this year, or for the last six month as I write. But don't let that put you off. When you sign up here you get a really good deal on a really good network and you are in for loads of horny hardcore.
OK, so you have this office sex fantasy and these movies are going to satisfy that no end. The guys in in suits and ties, for some of the time at least, the action often happens over a desk and you get plenty of imagination fuelling storylines. The guys they find are also pretty studly, we're not looking at twinks here but hard bodied, fit but not over the top muscly guys with good looks, rugged from time to time and perhaps the occasional office junior also getting in on the action.
When it comes to your viewing choices you find that you get only one choice of stream and it's a pretty heavy one. The site (and the network) does favour faster connections, but that is because the quality is so good. You've got three choices for download with movies available in WMV, Mpeg and Mp4 files. Scenes run for up to 30 minutes and are very well made. The sex is nicely played too, there are intros and build-ups, the suck sessions are varied, there is the hardcore anal to follow and you're guaranteed at least one if not two cum shots at the end. The other nice thing about these videos is that they come with trailers, so you can have a taster before you start, and they also come with sets of screen caps plus sets of digital pics as well. The sizes are fine and the digital ones often click right up to 1,500 x 1,000 or beyond and stay clear and focused. There is no faulting the quality of content here and it all stays on theme. It's just a shame we don't know about updates.
But, you can't really complain when you have so much else to see. Like I said you get to access a network when you sign up here and it is the Gay Room network of sites. Eight for the price of one and several of them are updating. You've got two sites featuring guys with incredibly big cocks, one of the sites is interracial as well; there are couple of 'outing' and hazing sites and one of those features gay pranks, which is a nice distraction. There are straight guys being seduced in the fabulous Gay Creeps, and orgy scenes in Bathhouse Bait. You have eight sites in total and a main hub where you can opt to see all and any of the exclusive movies and work your way back through the promised 4,600 + scenes, each with pics and interactive options.
You can rate scenes, comment on them, add them to your favourites area and search them by category. There are other good search and sort options as well, navigation is easy, the links all work and there is nothing popping up or getting in your way. The network benefits from a good design and you get a great service from the company.
Bottom Line:
Most importantly though you get excellent porn set in the office. Some news about when more may be added would be good to see, but meanwhile you should have no complaints about the men and the action. The site is really easy to use, good fun even, and the quality is spot on.
VISIT Office Cock NOW!
VISIT Office Cock NOW!