Rub Him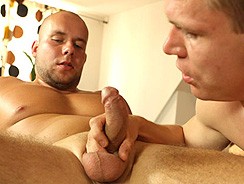 JUB Site Rating:
0 total vote





Rub Him's Billing & Pricing
Rub Him's primary billing processor: In House
$4.95 for a two day trial recurring at $49.95
$29.95 for one month recurring
$7.95 a month for one year, billed in one payment of $95.40, non-recurring
VISIT Rub Him NOW!


Rub Him loaded up its first video in January of this year, so you have a chance to get on the bandwagon of something new and still relatively unique. It's got a simple promise that works really well: A masseur sets up his table, average, amateur, ordinary looking sexy guys come along for a rub down and get a lot more than that. Sometimes they get their internals from the hunky masseur, sometimes it's the other way around. Sometimes the guy on the table is butch and beefy and straight, and sometimes he's cute and 'country.' But every time you get a good, long, slow, sensuous build up, a great atmosphere, good filming and quality, and then slow and sexy hand jobs, to oral, to full on ass banging in each of the exclusive movies.

You can check what's new on the homepage where each scene is sampled with a large sample shot and a good write up to set the background and the mood. There's also a page for Updates, but at the moment both pages hold the same amount of scenes, eight in total. But eight long scenes of over half and hour each. Viewing is all done by streaming, I didn't see any downloads, and there is only one choice for this stream too. Faster connections will do better here as it's a good high resolution and thus slower buffering for slower speeds. But you can always start a stream, put in on pause and then come back later when it's ready to roll.

You'll love the quality and the way the movies are filmed, it's all very natural and you simply sit back and get ready to join in, as the hands oil the bodies, stroke them, rub them down, discover the growing hardon under the towel, get to work on that, and then all sexy hell breaks loose. Compared to other massage sites Rub Him has the edge due to its atmosphere, models, and the way it slowly teases out the story. And they all end with at least one explosive facial or cum splatter finale, so that's pretty neat too.

You've got galleries to go with these scenes; screen caps and digital shots, varied in numbers, these galleries are easy to navigate and hold good sized images that fit well on your screen. No faults there.

Navigation generally is very simple here as you really only have three areas. The home page, the updates page and a page of bonus sites which, at the moment doesn't hold anything. Each movie has four pages attached to it for full scene viewing, in a great Flash payer, clips, screen caps and galleries. Very simple, very satisfying and you'll be left totally relaxed with your nuts empty, Just what you want after a hard day's work.

Bottom Line:
Give it time, take it slowly and you'll enjoy this site. Rub Him is new (hence the lower score than it will have in, say, a year's time when it will be up there in the 5 area), but it promises great things to come. It's exclusive, and it's knocking most of the other massage sex sites out of the way as it climbs towards the top of the reality, erotica and hardcore massage theme charts.
VISIT Rub Him NOW!
VISIT Rub Him NOW!