Thug Hunter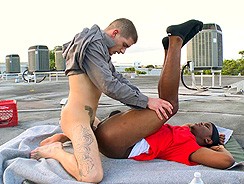 JUB Site Rating:
1 total vote





Thug Hunter's Billing & Pricing
Thug Hunter's primary billing processor: In House
$4.95 for a two day trial (renews at $49.95 per month)
$29.95 for one month
$7.95 per month for one year, billed in one payment, non-recurring
VISIT Thug Hunter NOW!
Here's something new and fresh, exciting and not to be missed. Thug Hunter is a new site that puts a different twist on interracial sex. You may have seen other sites where the big beefy black boys go out and find skinny white ass to play with, well here it's the other way around. Except no one is skinny. The main white guys go out and find horny black ass to play with, and they do more than play, let me tell you. You've got a neat mix of realism, reality shows even, with horny gay interracial sex, chats, persuasions, and build-ups to each unique story, there are good quality movies and a stock of good quality galleries to go with them.
And, as I am here to save you money, let me also tell you that you're going to want to get either the monthly membership or the full one year, non-recurring one. That's your cheapest option, and this doesn't look like a site that's going to let you down, so it's a safe one too. You can take the two day trial by all means, but watch out for the recurring fee if you don't cancel. Having seen the work from the company behind Thug Hunter in action on other sites, I'm pretty satisfied that you're not going to be let down here.
There are nine scenes so far, because the site has only been up and running a couple of months, but these are full length scenes that come with screen cap galleries, full digital galleries, full scenes and scenes in clips to stream. I didn't see any downloading and there was only one choice of player. That's at the moment, there may be developments in the future and there's a drop-down for your Flash quality that says 'madman', and it's a pretty high resolution. Perhaps they will be adding more over time. I also noticed that the updates were a little bit here and there; three in January, none in February but three in March, for example. Just a little something to keep an eye on.
But what I did also notice was that these scenes are fun to watch. Yes, they are horny and there's plenty of sex, no worries there. But they've also got these wild introductions, the guys doing the talking and chatting to you are very relaxed in front of the camera, it's all very natural and realistic. And they don't care where they bed their thug boys. The most recent scene took place in a Miami laundry as everyday folk were doing their washing in the background. Now that's something you don't see everyday. So, in that respect, Thug Hunter satisfies not only your lust of for hot interracial action with the ebony guys playing bottom, but it also gives a reality feel and has you on the edge of your seat wondering how they get away with doing what they do in public.
Technically speaking you get treated well, in a basic way. You've only got one choice for viewing, as I said, but it's a good one, though it probably will favor faster connections rather than slower ones. The quality of filming is good, there are no problems there, the sound is clear and the models, the ordinary guys, are easy on the eye. The ebony dudes tend to be rough and ready, but sexy of course, hung and up for some bending over. Galleries hold decent numbers of good images of a medium size and are easy to navigate. It also looks lie there may be some bonus sites coming along soon.
Bottom Line:
It's new and fresh, and takes a new slant on the thug and interracial theme. It's great quality, it's growing steadily, it's exclusive and you won't have seen anything like it before. Totally worth viewing and staying with, so go check out the join page.
VISIT Thug Hunter NOW!
VISIT Thug Hunter NOW!