Dudes Raw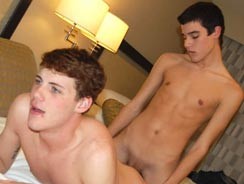 JUB Site Rating:
1 total vote





Dudes Raw's Billing & Pricing
Dudes Raw's primary billing processor: Ccbill
Dudes Raw's optional billing processor(s): Paycom
Prices:
$19.99 for one month, recurring
$59.95 for three months non-recurring
$74.95 for six months non-recurring
$119.95 for one year non-recurring
VISIT Dudes Raw NOW!
It's all about cum on the ass, cum in the ass, bareback videos and raunchy amateurs at Dudes Raw, a site that offers exclusive and rubber-free videos and pics to stream and download. The scenes can be pretty extreme at times and the sign up price is the opposite so you get good deals on memberships here. I also found a members' chat area and some bonus sites when I was snooping around inside, and this is what else I found:
I started at a home page that, after a quick advert for a 'deal' on another membership, gave me the standard kind of update news in sample-image form. These are shown with upload dates and it looks like a new scene is being added here every week on a regular basis. There's a top menu to take you to the main areas of the site, and some up-sells, and there are a few adverts for other sites and sign ups littering the pages. But mainly your eyes fall on hard and average looking guys fucking, which is what we came in to see.
So, heading to the Latest Videos area I found 342 movies dating back to the start of 2010. Each movie is shown in a streaming player with downloads and details to the side. There are Mp4 and WMV files to download with resolutions up to 2,000 kbps @ 1,280 x 720 for Mp4, and slightly smaller for WMV, and some of the older files may not be quite as high res as the more modern ones of course. Download file sizes were not too big, which is always good to see as they are quick to come down, around 200 to 400 Mbs in size is a rough average. Movies run for around 25 minutes each, the stream will go full screen where the quality is kept and the sound and visuals are all fine.
Each scene comes with a set of images that you can download in a zip file and you find these beneath the stream. They open up to medium sized images which come with simple navigation buttons. The zip files are in the left hand column where you also find some interactive options such as rates, comments and add to favourites.
The action at Dudes Raw is exactly as you would expect from an amateur guy bareback site, with average looking models, who are very often not average in the cock department, and duo scenes with one top and one bottom. There is plenty of bareback action, there are cum shots and cum on the ass, or face, there are the creampies that you saw on the tour and everything is well played out in a simple and natural way. You will have no complaints about the action.
You can check the models out via the Dudes model index where there were 293 amateur models with big face and body shots to guide you. Click one and find simple visual links to his videos. It would have been nice to have had some more information and stats here and some ways to search and filter the guys. There is a general search area but otherwise the site is quite basic in those areas. It does though have a members' chat function, linked at the top of every page. Here in a new window you can hook up with other currently viewing members. (I found his worked better in IE, in Firefox it gave me a blank page only.) Check out the Chat area for 120 free credits
Bottom Line:
You are looking at a simple site that delivers on its tour promises, comes with streams and downloads, decent quality bareback content with amateur guys, some extra functions and a couple of bonuses. It's good value, does the trick and updates regularly. Good, solid, bareback hardcore.
Tags:
Bareback, Hardcore, Cum, Cream pies, Amateur, Dudes, Daddies, Jockstraps, Gay Breeding Cumshots
High Definition No
DRM Free Porn Yes
Downloadable Yes
Content Format Movies with pics, model index, chat, bonuses
Live Shows No
Bonus Content Some free chat
Multiple Site Hub No
Content Updated Weekly
Safe Sex Notice:
This gallery contains images of unsafe sex practices, also known as barebacking. Engaging in sexual practices without the use of a condom is a risky and unnecessary behavior. There are a lot of studios including the one listed on this page that film bareback or have bareback scenes in their content libraries. The images presented below should only be used for fantasy and you should not deceive yourself into thinking that "everyone is doing it." Further, you should not assume that just because you see photos or film content of barebacking that sexually transmitted diseases have been miraculously cured. HIV and other sexually transmitted diseases are very real and potentially lethal. Please practice safe sex in your own life and educate yourself regarding the dangers of not wearing a condom before having sexual encounters. Visit AMFAR for more information about safer sex.
VISIT Dudes Raw NOW!
VISIT Dudes Raw NOW!