Self Shot Boys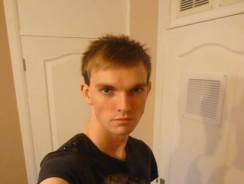 JUB Site Rating:
0 total vote





Self Shot Boys's Billing & Pricing
Self Shot Boys's primary billing processor: In House
$5.95 for three days full access
$29.95 for 30 days recurring
$44.95 for 30 days, one time charge
VISIT Self Shot Boys NOW!
Self Shot Boys is all about collecting pics and videos that guys have made of
themselves and putting them in a members' area that's available for a fairly standard
rate. The first question is, where did they get this content? And the second one is, is it
any good?
I'm not 100% sure about the first one, but I know there are loads of sites out there
where the guys who run them find just this kind of material and literally take it from
other sites. Places like adult tube sites, maybe even other adult sites (there is always a
controversy ranging among webmasters about pilfered content, and rightly so), but the
point is, wherever it comes from, this site has got it. And is it any good? Well, yes and
not-so-yes. But that's what you've got to expect. I mean, some of his content was shot
on a small mobile phone in a dim bathroom somewhere in the great Mid West, or in a
sleazy bedroom in London, and then filtered up to an adult site, possibly compressed
and then taken down again. So it's been as roughly handled as a rent boy's dick. So
don't expect full HD, that's' not what these sites are all about.
And I can tell you that Self Shot Boys is pretty similar to many other sites of its kind,
and there are many of those. It boasts 1,301 high rez photos, 32 full length movies
and 29 hot boys. I'll pull that all apart in a moment. First though it also claims tons
of bonus content which turns out to be six feed sites, one of which is actually a great
bonus; it's a tube style site with loads more home sex videos (gay and young).
The photos, on our main site, came in 33 galleries, with each one having its own
number of individual images. High resolution? Not all, no, but mostly perfectly
viewable and, as I said, the rough quality is what you have to expect. There were
certainly self-shots though, two twinks in the bathroom giving each other blow jobs
(why is it always the bathroom? Because of the abundance of mirrors), solo twinks
and teens at home, one guy in a lift, not all naked, but very often stripping down and
flashing soft and hard cocks, and all kinds of young guys too, from EMO to studly.
Over to the videos and less to view, at the moment, but only 10 clips. Where's that
32 they were talking about? And the 'full length' bit? I'd say the average length of
runtime here was ten minutes, one movie was seven and another was 32; it varies.
You have good descriptions with the videos and nine ways to download and nine
ways to stream. With three qualities and three payers per clip. A mid-range WMV
download of the longest scene was 250 Mbs. You also get the chance to rate and
comment on what you see so you can get a little involved with your site, and there are
also good search and sort options and top lists of most viewed, most poplar and so on.
Another neat thing about Self Shot Boys is that it has a model index; well, it has a list
of the boys and shows you face pics, so you can select your content by boy's face.
This will be useful when there is more content, and my only real gripe about the site is
that it is not very large, as yet. But updates are happening, it seems, on a weekly basis.
Bottom Line:
I have to say, not the biggest self-expose site around, but growing week on week.
Some of the guys look very young, some of the quality is low, but you get the best
that they can find from all over the web. The additional Tube site in your extras makes
it worth paying for a membership even with only a small amount of content, and when
the site gets bigger, it will get a higher rate from me. Self Shot Boys is heading in the
right direction.
VISIT Self Shot Boys NOW!
VISIT Self Shot Boys NOW!