Straight Wankers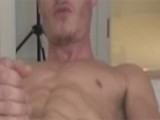 JUB Site Rating:
0 total vote





Straight Wankers's Billing & Pricing
Straight Wankers's primary billing processor: In House
Monthly Recurring Membership - $29.95
One Month Membership No Rebills - $49.95
90 Day Membership - $69.95
VISIT Straight Wankers NOW!
Ok, so what is going on here? Have we really got genuine straight guys jerking off for us? Are they exclusive, what's the quality like...? Loads of questions and some very simple answers.
We've got a site that gives us unique models in solo jerk off scenes, and some hardcore ones, playing with toys, jerkin their hard cocks and giving us some lovely cum shots; we've got good quality, basic movies, and we've got galleries too. There are extras and some fun things to check out on top of the main content, and we have a site that uses a standard, template design that makes it easy to navigate and use. Add on the updates and the fact that the boys are cute, young and spunky, and you've got a decent enough site to get your interest sparked and your dick up and running.
You start off with the home page, as per usual, and find a simple top menu, news, popular scenes and a weekly poll. You also find decent sample shots of the most recent content and numbered index pages to take you on and into the depths of the sexy scenes and galleries. Everything is well laid out here so there is no getting lost, and you can easily get straight to the movies, which are probably the most important things on the site.
I checked a couple and found straight looking lads, English by the sounds of them, in very nice solos scenes. These guys were able to forget the camera and simply get on with their cock play, their toys and their wanks, so that the scene came across in a natural way. Now then, I say 'straight looking' because the boys were, but were they really straight? It's hard to tell because I only found one guy who spoke to me
(though I didn't see every scene, to be fair)
and all he said was 'this one's for you,' or something similar. It would have been good to get the fantasy expanded, to have the guys talk more in the first minute or so, so that we could make up our own minds as to their sexuality. If you check the model index you don't find any clues there either, there are places for stats and info to be added, but nothing written in them.
So what you actually have are good looking boys in solos scenes who may well be straight; some very good looking boys in hardcore scenes who surely can't be straight - otherwise they wouldn't get down to the sex so readily and so well, and some very good quality movies to stream or download. You've got Flash clips or full length downloads, so you shouldn't have any trouble actually getting to, or seeing, this action.
Then you move over to the 45 photo galleries and find the same sexy boys in good quality images. These have different numbers of images per set, and they come with a written introduction, you can rate them and add them to your Favorites area. Members can also make comments on content at Straight Wankers, so you are able to get slightly involved in the site, making it more interactive than just a view and go site. The photo sets take you right around each boy's body, images are large and clear and you can run slideshows; it's all very simple and easy to access.
Add on your seven bonus sites, the 37 feed sites and the collection of 17 stories, the search options and six other membership sites you can access, not all on the straight-boy theme but all great to view - and you've got a good package of general gay porn with some horny straight looking lads at the center of it all.
Bottom Line:
You get value for money here in an all-round, general package of porn that has, in the heart of it, some very natural solo shoots from some very sexy looking, possibly straight boys. It's all rather standard and straightforward though, there isn't much information and the site uses a standard design. But for a place to come and cum it does you well, and you get a load of extras to boost your membership.
VISIT Straight Wankers NOW!
VISIT Straight Wankers NOW!