Marcus Mojo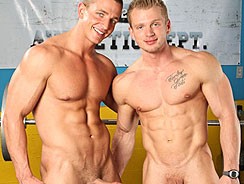 JUB Site Rating:
1 total vote





Marcus Mojo's Billing & Pricing
Marcus Mojo's primary billing processor: In House
$2.95 for three days
$29.95 for one month
$68.95 for three months
VISIT Marcus Mojo NOW!
Marcus Mojo is a model working for the Next Door network, he now has his own site where you have 13 exclusive videos staring him, he's got bonuses attached to it, including an exclusive live show site, and he's got great quality productions. You sign up here, for a very reasonable price, and you get to access 21 other hot sites that are varied and excellent.
So, what are you waiting for? You want to know more? Ok, then what can I tell you... Well, I can tell you that you can view the site in various languages, you can click to stores and other interesting places, you can stream and download the movies and there are photo sets too. You can get backstage and see how these scenes and photo shots are set up, you can rate content and click to social networking sites for the network and company.
But you can also find out a little about Marcus, as he has a standard kind of write up 'about me' and some stats. But you're going to get to know him best in the movies and these are set out for you on the home page. The site has not been running for that long, hence the low number of movies and galleries, but it is being added to each time Marcus Mojo makes a new movie. And meanwhile, you have hundreds of other exclusives in your bonus site to view.
Viewing movies is easy on this network, they all have just about the same kinds of options. You can stream in two or three qualities of Flash, so even slower connections should have no trouble, and you can also scrub, or jump through the streams to slip further into the action if you want. You can also download, usually in two qualities of WMV, and the downloading happens reasonably fast.
Each movie comes with a set of decent screen caps that are clear and that take you right through the action, and on top of these you've got 27 digital photo sets. Through these you get a chance to stop and pause, take in this guy's chiseled body, his muscles, his cute face his jock appearance, and you also get to see him in sets
(and videos)
with other top ND models, such as Samuel O'Toole and Tommy D. And you can also see him in a photo set with a female model, so we're guessing Marcus can swing both ways, though most of his content here is 100% gay and hardcore.
I found good quality movies here, as I did on all the sites I was able to access. Whether you chose a low or higher, or even HD, resolution movie to view you find good quality acting in the start-ups, clear sound and visuals and natural performances. But you also find good camerawork and editing. There is nothing to complain about with any of the content here. Movie run for a good length of time, around 20 minutes each, and galleries hold good numbers of images.
Moving around the site is easy as navigation is simple and the top menu stays with you; you have a drop-down list of your extra sites, there is even a countdown to the next live show - and remember these live shows are included with your membership, there's no rip-off here. The only thing ripped are Marcus Mojo's muscles, so prepare yourself for a good, hard, horny time in a site that shines among a galaxy of shining sites. Yes, I rather enjoyed it.
Bottom Line:
Another top model from a top company that makes top porn. You won't need to join this site separately from any of the Next Door sites as they are all included in your membership, bringing you excellent value for money and a smooth and sexy hung jock who likes his sex as much as you do.
VISIT Marcus Mojo NOW!
VISIT Marcus Mojo NOW!