Samuel Otoole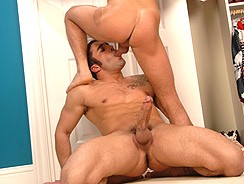 JUB Site Rating:
0 total vote





Samuel Otoole's Billing & Pricing
Samuel Otoole's primary billing processor: In House
3 days trial membership - Total charge: $2.95
90 days membership - Total charge: $68.95
30 days membership - Total charge: $29.95
VISIT Samuel Otoole NOW!
Samuel O'Toole has hit the net with his own site backed up by the awesome company Netxdoor Entertainment. If you're a fan of their sites
(Next Door Male, Next Door Buddies etc.)
you're going to want to see this one. If the network is new to you, well, you are still going to want to see this site. Apart from getting close and personal with a rising, hung and totally cool porn star, you get all the added bonuses of access to the other sites in the network. That's around 20 hot sites, all great quality and all staring some of the hottest talent working today.
Samuel's site is new, it's only just gone on line so you've also got the chance to be in there from the start, to follow his progress and read his blog, to find out all about him and more importantly, to see him in action.
When I clicked in, eagerly expecting the high quality, HD, videos and galleries that the company is known for
(and not being disappointed)
, I found 17 exclusive scenes. These started with a neat solo from Samuel where you got to know his body and that very impressive tool, and the collection then went on through a series of gay
(with only a couple of straight)
hardcore scenes, including one foursome and a themed Halloween movie or two. So it looks like you're going to get plenty of variety here. You are also going to get plenty of good viewing options; you start off with a large Flash screen (you'll need version 10), and a choice of three resolutions for streaming from HD downwards. There were two download options as well, for WMV in higher or lower quality, and a really fast transfer rate of 127kbps. So, no problems with viewing or downloading, even slower connections will be able to cope here.
These viewing pages are well set out and the various viewing options are easy to find. You also have a short intro to each movie and links to the photos that go with them. The selection of titles is shown on the Movies page by way of clear and decent sized thumbnails, with some basic info and easy links to their viewing pages. This style of presentation is typical of the site and the others in the network, and you're not going to have any trouble with navigation or design here. If you need the Flash player version then you will find links and help, and you get very well looked after.
But it's the quality of the men and the sex that you are going to be more interested in. With Samuel standing at 5' 7" he's not the tallest guy on the block, but he is compact and tough, has a lovely, tough butt and a cock to die for. He's also got a cheeky smile which is very sexy and a cute goatee, from time to time. You can collect hot images of him in the 15 galleries where you also get a good quality presentation. The images fitted my screen perfectly at 950 x 630 in size and were clear and digital. No worries there and the sets are easy to browse one by one.
As for extras, as if you needed them, you've got a drop down list of all 21 sites to click into, and you have backstage videos too. There is an exclusive Live Show set up included with your membership, and you don't have to pay anything extra to view this. You even have a countdown to let you know when you need to be on line and ready for fun. So far the updates to the site have been happening every week and it looks like Samuel O'Toole is going to be around a long time, and he's definitely someone you're going to want to stay with.
Bottom Line:
More content would have got this site a top rating for sure, but it is a new site and it is building week on week. Meanwhile you've got enough here to keep you hard and happy for the time being, and then you've got a large set of other top and exclusive sites to view while you wait for more form Samuel. My advice is to sign up now, get in at the start of the adventure, and go for a longer-term membership straight off; you're not going to regret it.
VISIT Samuel Otoole NOW!
VISIT Samuel Otoole NOW!