Rod Daily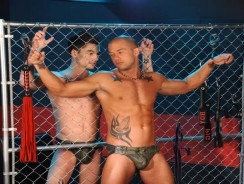 JUB Site Rating:
0 total vote





Rod Daily's Billing & Pricing
Rod Daily's primary billing processor: In House
3 days trial membership - Total charge: $2.95
90 days membership - Total charge: $68.95
30 days membership - Total charge: $29.95
VISIT Rod Daily NOW!
Where do they get these porn star names from? Rod Daily
(you shouldn't have to think about it for long)
is another new site from the Next Door team who already have the likes of Cody Cummings, Trystan Bull and the Visconti Triplets sites under their bulging belt. There are actually 20 sites to access when you sign up to this one and there is the added attraction of an exclusive live show site too - with regular shows featuring some of the Next Door team's top stars.
But what we are looking at here is the home site for one of those top stars, Rod Daily. He currently has 23 scenes that are solos, gay hardcore, bisexual and straight themed, with more of a leaning towards the men rather than the women. He also has 23 good photo sets and in here you can collect posed and action images. Rod himself is 5' 11" and takes size ten shoes, he's of medium to large build thanks to his muscles, he has been working in porn for just over four years, and he likes football. I just got all that from his 'about' page where there is even more information.
Meanwhile, over in his movie collection, you get a page with good sample images showing you who is in each shoot. These come with upload dates and I noticed the first was put up in July 2010; since then the updates appear to have been regular, and thus you can expect this page to grow over time. Click a sample to get to your viewing page and there you find: Three qualities of Flash resolution to stream in, from a large one to a small one that will suit slower connections, but which will remain quite small to view. You can also take downloads in a high and lower resolution file which zip down the line to you at around 125kbps, which is nice and fast. I checked a scene featuring Rod and Mason Wyler, which as you might expect was pretty hot, before switching to a gym based scene with Rod, Zac Blake and Nikko Alexander.
I'd not heard of Nikko before so I clicked his linked name beneath the viewer and found a page telling me where else he also appears. He has shoots on three Next Door sites and you can click the links provided to get straight to those sites. There is also a drop down list of the bonus sites at the top of your page, so it is very easy to leap around the full collection, happily following your favorite model.
(You may need you username and password to access them, so keep them handy.)
The photo sets are also linked to the scene they represent, and the images are also good quality, not huge but big enough. And, again in your top menu, you find links to the live shows page. I was told that Rod's next live show was 'coming soon' but the next show itself was on in 14 hours. There is a handy countdown on this page and information about what the next show is going to be, and who is going to be in it. A line of text told me that these live shows were daily, and there were many links here over to Next Door Chat where you can register for free and do some interactive chatting with top stars and other members.
Bottom Line:
So, Rod Daily does offer you some daily rod, with live shows, his own content and those extra, exclusive bonus sites. It's still relatively new, so not a high content count and not yet a top five out of five, simply because it needs more content before I'll give it one of those. But as for Rod, as they say: marks out of ten? I'd give him one.
(Wink, wink.)
VISIT Rod Daily NOW!
VISIT Rod Daily NOW!