Daddy Strokes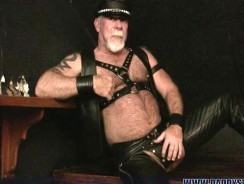 JUB Site Rating:
0 total vote





Daddy Strokes's Billing & Pricing
Daddy Strokes's primary billing processor: Ccbill
$24.95 for 30 days recurring
$29.95 for 30 days non-recurring
$64.95 for 90 days recurring
VISIT Daddy Strokes NOW!
Daddy Strokes has a simple premise: Take older guys, silver daddies and their admirers, and film them stroking, getting blown and servicing young bucks. That's it. Well, there's a little more to it than that, but for lovers of older guys who are hung and horny, this is a neat pace to stop off for a quick download or two.
Well, when I say 'download' I actually mean you downloading something from your nuts, rather than something from the site. I had a quick check though the 31 exclusive movies and found streams, but no downloads. I did find a line reading 'DVD available: No' on the movies I saw, but I didn't get to view each one. The ones I did see came with an auto detect function for your connection, plus high, medium and low versions of Flash, and the high quality one was fine at full screen and didn't take too long to buffer.
There were 16 hot dads in the model index, but here I came across a slight problem that also happened when I used the top menu. I was in the members' area, no trouble there, but once I'd viewed a few scenes and went to the model index I was back out in the free area, it seemed. I had to log in again to get back to the members' only department. However, if I used my back button I was ok, no need to log back in again. The same happened when I hit Home. Just something to watch out for.
As for action; you do get solo dads in hot jerk off sessions, and you do get action scenes too. Sometimes these involved two dads, and at other times there's a younger guy getting a look in on the action. Sometimes he's white
('Chris' makes a few appearances)
and sometimes there's a cute ebony guy in a scene. So there is some variety there for you, though many of the scenes are shot indoors and the action does tend to stay rather the same. One of the hotter scenes was a 'tie him up and jerk him' scene with Chris being tied up, and 'the General' jerking off on the beach was also a good change from the solos on the sofa selection.
Having had a look at the movies Daddy Strokes had on offer, and having thought to myself 'well, that's that then,' I went to the bonus area. Get there fast! You have five days' access to Mature Gay DVDs where you can view five movies. But after five days of membership to Daddy Strokes you can't get in any more.
And I'm kind of running out of things to tell you here... There is actually very little at this site and I'm not sure if or when anything else is going to be added. The tour states something new every ten days, but there are no upload dates, no news as such and only the briefest of descriptions with the movies. You don't have a chance to send in comments or rate the content, the model index doesn't give you much help either, and no more information. It's all rather simple and it's a question of clicking to a movie, watching it online and then going to another one. So you can't collect from the site, but what you see should be horny enough to get your downloading from your nuts.
Bottom Line:
Daddy Strokes is a bit of an add site: it has an amateur feel to it though it's obviously put together by folk who like their dads. But they do rather leave us in the dark. We don't know when videos were added, we don't know for sure when more will be coming; we can't download and there is very little information about the guys, the movies or any update schedule. There are no galleries either. Your bonuses are limited to your first five days of membership, and there is no way to get interactive. It's a 'quick peek and wave goodbye' kind of site.
VISIT Daddy Strokes NOW!
VISIT Daddy Strokes NOW!