Bad Puppy Video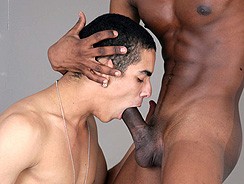 JUB Site Rating:
0 total vote





Bad Puppy Video's Billing & Pricing
Bad Puppy Video's primary billing processor: In House
30 minutes.... $6.95
80 minutes.... $8.95
120 minutes... $14.95
220 minutes... $19.95
320 minutes... $29.95
499 minutes... $39.95
75 FREE Minutes!
624 minutes... $49.95
1000 minutes... $79.95
VISIT Bad Puppy Video NOW!
Well, as soon as you open the first page a streaming movie starts and your eyes leap to the top of the page to see who is doing what to whom. Very distracting, but in a great way. So, dragging my eyes away from that, I then noticed that Badpuppy Video has a category lists as long as your arm, lots of search options, a full size video player, a good look, a neat design and a good set of rates to buy your time with. You see this is a pay as you go set-up, a video on demand area, and it's one that's just going through a change, or has recently gone through a change depending on when you are reading this. It was Doggone Video, now it's Badpuppy Video, either way it's all about quality videos.
And that's the point. This isn't just any old video theatre, it is one where only the best is selected for you. The membership demands certain standards and Badpuppy delivers on those demands. So you may not have the largest stock of porn in the world
(who has?)
, but you have one of the best, the most select, and the hottest. And that's what it's all about isn't it?
So where to start... Well, I started with a search. It took a couple of seconds for the search page to open up properly, it was worth that little wait though. There are many categories to search though and some unexpected ones, such as Small Breasts and Pantyhose - there is shemale content in here too. So select something that's going to float your boat, Smooth Dudes in my case, and then select a box cover.
(Having said there's not a huge collection here, I then discovered that here were many pages in this one category alone; but I expect some vids appearing here would also appear under Twinks and other categories.)
Your videos come with scene descriptions, cast names that are linked to model index entries, some release information, and linked tag words. Click the Player button for a new, floating window with the media player inside it. As this 'floats' you are able to go and line up your next movie while you get this one started.
Select your speed, from dial up to broadband high, and click the button. You will do better if you are on a fast connection here as the slower your connection the smaller the viewer, and it can be a little too small for my liking even on the DSL version. Mind you, this version, a mid-range sample if you like, was just about ok at full screen with little loss of quality, so that was ok. You can jump through scenes and you can also switch to the next scene, all within this neat little player. And you've got a counter to the side telling you how many minutes you've got left to go. This means that you can see how close you are to running out of time and make sure you have enough left so you don't get cut off just as you're building up to that all important, busting-a-nut, it's so horny cum...
Shot.
(I just popped back to buy some more minutes.)
And there's another thing, your minutes. Buy straight into the larger packet and you get the better deal, particularly if you are going to watch some of the premium movies where your credits are used more quickly. For the cost of one month at a standard membership site you will get hours of viewing time here, and in that respect Badpuppy Video also gives you great value. Especially as you have such good variety of movies, updates coming in regularly and good quality movies only.
So, to finish you off, before you rush over and buy into this great VOD site, let me also tell you that the theatre comes with sets of new videos, there are studio searches so you can find your favorite producers, you can search for your fav stars and you can even see movies arranged by countries of origin. It's all wells designed and easy to use, well set out and fast to run. I'm loving it.
Bottom Line:
Looking good, feeling good and it does you good. Badpuppy Video has got the leading edge on many other VOD sites because it's got only good quality movies, lots of them, good search and sort options too, and it's not going to cost you a month's wage. You get a fair deal here and a fail deal of horny porn to keep you satisfied for many a month to come.
VISIT Bad Puppy Video NOW!
VISIT Bad Puppy Video NOW!