3d Gay World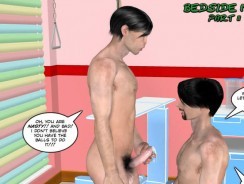 JUB Site Rating:
0 total vote





3d Gay World's Billing & Pricing
3d Gay World's primary billing processor: Ccbill
$29.95 for 30 days recurring
$39.95 for 60 days recurring
$49.95 for 90 days recurring
VISIT 3d Gay World NOW!
It's all about lifelike comics at 3D Gay World, a glossy, fun and horny site that's offering you something different from the norm. What you've got here are stories, in comic book style, with images that do, kind of, look 3D. Certainly some of the images looked like photos, almost, and you get the impression that someone's made some moves and then drawn stills from them, or used a computerized technique to change them from frames to drawings... whatever. It's horny stuff and makes a great change from the same old same old.
It's also very simple in this members' area, there is noting to fear. You've got the recent updates on a home page with site news, you've got a menu to take you to the comics and to an area of galleries.
(Real people this time.)
Each of the comics has its own number of pages, and there are 170 episodes to click through at the moment. Some of these are from on-going series so you get to know characters and follow their horny adventures, others are stand alone stories. But the important point is that they are all stories, you get a beginning, middle and an end. And don't think that the end is simply the cum shots, there's a winding down period to so the stories end up being well rounded.
They are certainly well drawn, though not all were what you'd call 3D, and you don't need special glasses to view them, so don't worry about that. Browsing is easy: you select an episode, click the link and there you find a thumbnail gallery of the first pages. Open one and then click through page after page. Or you can skip through the thumbnails to the following pages and start reading from half way in - which is what you sexed up guys are going to do, I know it. But try to resist heading straight for the sex parts, try starting at the beginning of the story, get to know the characters, it's more fun that way and you delay the porn moment, which simply builds your... enthusiasm.
And as for what these stories are about... there are tag words so you get an idea of the categories: Sc-fi, muscle, hunk, group, fetish, uniform, young and twink for example. These tags aren't linked and there is no search box, so you do have to view each index page, read the description and check with the sample pics to see what may take place in your story. But whatever the subject, a guy at the fair, a hustler, a dim virgin and an older guy, you are guaranteed sex throughout and it is very horny. Actually the site is very addictive. You think 'I'll just have a quick look at this one to see what the guy looks like naked' and next thing you know, half an hour has passed and you're reaching for the tissues.
And on the subject of quality: individual images/pages opened up to 900 x 675, some slightly smaller, and all were perfectly clear and loaded nice and fast. Over in the 'series pics' area where you find 170 galleries of cute guys, you also get decent quality, mid-sized photos, not exclusive perhaps about a little break from the crazy and very sexy world of 3D.
Bottom Line:
You've got excellent art work at 3D Gay World, plenty of it, long, on-going series of sexy adventures mainly produced in a kind of 3D look, but all great fun and addictive to read. You are in for updates every week or so, the site is easy to use and navigate and the drawings are, as far as I know, exclusive. Some extra image galleries of hot guys makes for an interesting addition to what is a site that every toon fan, and anyone after some great image content, must go and see.
VISIT 3d Gay World NOW!
VISIT 3d Gay World NOW!