Gaylife Network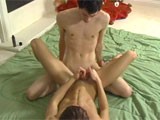 JUB Site Rating:
0 total vote





Gaylife Network's Billing & Pricing
Gaylife Network's primary billing processor: In House
$1.95 - 3 Day Membership
$4.95 - 7 Day Membership
$24.95 - Monthly Membership
$49.95 - 3 Months Membership
VISIT Gaylife Network NOW!
The site, Gaylife Network, consists of 81 videos. The network though also carries four twink sites and a bareback one, with plenty of their own content to keep you hard and happy for a long time to come. All that for under $25 a month is good value, the content is good quality and the boys in all the scenes are top models. Well horny, well stocked and easy to use. In fact this is perfect set of sites to consider joining when you are on the hunt for hot youth, hard jocks and studs, and well made hardcore.
So, you start off at a home page that tells you what's new and what's coming soon. You will see straight away that you have a good set of search and sort options here, you can look through categories from '3 some' to 'Twinks', and there is a drop-down list of sites too. A top menu ensures there are no navigational problems and all the sample pics are nice and clear, links work well and you get well looked after technically.
And as for what makes up the Gaylife Network content - those 81 scenes... Well it's all younger guys, jocks, some forced sex, fisting, anal, blow jobs, Latinos, threesomes, duos, solos, cuties, different settings, showers, offices, gyms, footballers, swimmers... the list goes on. You've got variety here but all with sexy guys and well made movies. You get to view these in various qualities of Flash, with the medium one having a nice and quick buffer, and you can also download in WMV (two qualities) and Mpeg files for iPods etc. So, a decent set of viewing choices there then. Movies run for an average length of time, say around 15 to 20 minutes, they come with a basic description and also with pics. In many case I found over 300 of these, with zip files available, and although they were screen caps at 640 x 480 in size and not always perfectly clear (due to being taken when the hot bois were 'in action'), they were perfectly viewable - and a good way of seeing how the scene is going to unfold, which one of the perfect lads gets fucked, and who is on top etc.
It's not all twinks here though, check some of the later pages for harder guys, muscles and tattoos, double penetration between studs and some of the nicely rougher end of the model market. Thats what Gaylife does well; it gives you a nice mix of guys and settings, but always with its eye on the quality. If you want twinks then head off into the bonus sites where you've got the likes of Lollipop Twinks and Bedable boys and for bareback well, you've got Best Bareback for condom free sex. More hot scenes, equally as well made, just as easy to navigate and view and all these sites benefit from regular updates.
Really, there are no downsides to signing up for this site and its network, not if you are after exclusive and hardcore, well made and sexy porn with good variety and easy downloading of files that you can keep. Add to this the feed site content
(36 scenes)
and the model index of around 300 guys which comes with sort and search options, and you've got a perfectly smooth running, hot site to view.
Bottom Line:
The Gaylife network is one of the classier networks available to us at the moment. It runs like a well oiled machine, and you can easily dart around looking for the next perfect guy to watch in hardcore and solos scenes. It comes with extra sites as a network, and with feed content too, a model index, easy search and sort options and links to a store, suggested sites and a live cam site
(pay to become a member)
.
Safe Sex Notice:
This gallery contains images of unsafe sex practices, also known as barebacking. Engaging in sexual practices without the use of a condom is a risky and unnecessary behavior. There are a lot of studios including the one listed on this page that film bareback or have bareback scenes in their content libraries. The images presented below should only be used for fantasy and you should not deceive yourself into thinking that "everyone is doing it." Further, you should not assume that just because you see photos or film content of barebacking that sexually transmitted diseases have been miraculously cured. HIV and other sexually transmitted diseases are very real and potentially lethal. Please practice safe sex in your own life and educate yourself regarding the dangers of not wearing a condom before having sexual encounters. Visit AMFAR for more information about safer sex.
VISIT Gaylife Network NOW!
VISIT Gaylife Network NOW!