Sneaky Peek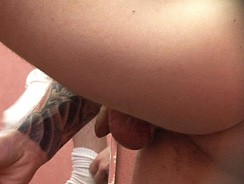 JUB Site Rating:
0 total vote





Sneaky Peek's Billing & Pricing
Sneaky Peek's primary billing processor: In House
$39.95 for one month recurring at $34.95
VISIT Sneaky Peek NOW!
Putting it quite simply, Sneaky Peek is the perfect place for voyeurs to come and hang out. There are over 111 photo galleries and 219 hidden cam galleries, there are footballers in locker rooms, guys jacking off at the clinic, guys in hotel rooms, showers, and at home and all kinds of sexy guys at that. It's all about hiding the cam and then letting it record as unsuspecting boys are caught stripping and playing. And there's a very simple sign up process and structure too; you've got one option, it might seem a little high, but you get good things in return, and it decreases after your first month.
When you read 'gallery' this could either be photos or videos, but it's easy to see which is which as everything is listed on your home page. There you also find the latest scorcher of a scene and some recommended ones to get you started. The neat thing here is that the galleries are arranged by location, with 12 different locations in use. I went to the Football Lads one first, I mean, how can you resist? And there I found 41 photo galleries from various places around the UK - this is a British set up.
Within these locations you come across movies as well as photos and when I stumbled on a movie (I wanted to see the smooth, Brit boy out of his soccer kit in more detail), I found a Flash stream, and three download options including WMV and Quicktime. I had no doubt that these lads had no idea they were being filmed, and I was impressed with the quality of the movie too. On that note, some of the photos were a bit fuzzy, but you have to expect that from a voyeur cam, hidden cam style set up and, in a way, it simply adds to the attraction.
Having slipped into Daniel's house to see a straight guy having a wank, hanging out with his mates and getting a blow job from his girlfriend, I popped into the cop shop to see the boys coming off duty, getting undressed and changing. Then it was time for a shower with some gym bunnies before heading over to the urinals for some peeing action and then on to the hotel room for some more candid stripping. You're not going to find hardcore here, not much anyway though there are several jerk off scenes, and what I did see was straight, but the viewing of the movies will give you plenty of thoughts to fire up your imagination. And then you've got the pics to view while you put your imagination into action.
I'm not too sure about updates. I was having my own Sneaky Peek at the site a couple of weeks ago and I'm pretty sure the top of the list, most recent, clip was the same today as it was then. But there is already enough content here to allow you to view the site for at least a month, by which time you will have noticed if anything new has been added. The whole this is easy to navigate and use, so there are no problems there and remember that you can also download and keep the videos.
Bottom Line:
A few more notes about updates would be good, and maybe some stories to go with the galleries, but there isn't really anything missing here. Sneaky Peek puts you right in the rooms and showers of ordinary guys, most of whom are fit and hunky, and then lets you simply watch the naked word go by. You've got good viewing choices, decent quality everything and some perfect voyeur moments.
VISIT Sneaky Peek NOW!
VISIT Sneaky Peek NOW!