Gay Violations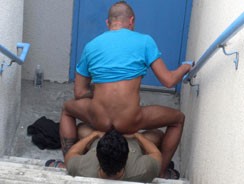 JUB Site Rating:
0 total vote





Gay Violations's Billing & Pricing
Gay Violations's primary billing processor: In House
$39.95 a month recurring
VISIT Gay Violations NOW!
Welcome to Gay Violations, a network that looks to be new and growing, different and good quality. You've got a good tour area here with clips showing you what's going on in the members' area, photos showing you what the site is all about and a lot of promises which are, mostly, kept.
The site is all about catching guys on camera, home footage and guys getting revenge on other guys in a sexual way. At least that's what the tour looks like. When you get inside you find a variety of content that is sometimes about revenge and sometimes simply about finding guys doing naughty gay things. It's a nice mix up of horny and exclusive content and it comes with access to several bonuses too - in fact you get to access the whole network and it currently holds three sites.
I stared off at the network home page which showed me recent updates and which gave me links to the site and to all the videos in one place if I wanted. There were also nice search options and the interface here is interactive. The Gay Violations site, once filtered from the drop-down list of networked sites, held 26 scenes. You can read the brief, to the point, descriptions of each one and see a sample shot to give you an idea of what's going to happen. You'll find some prank movies, some caught on cam ones, and some hardcore scenes between two guys in the strangest of places. The movies run for various lengths of time - some were simple short clips while others were longer. One was simply a guy sitting on a toilet getting a bucket of water thrown over him, that's obviously revenge for something. Another involved a guy being chased up the stairs and having his pants pulled down.
You get a good reality feel to these short clips, they are fun, but as they are often short you don't really get a chance to sit and watch and jack off. Having said that, some are longer and more erotic, so check them all but for hardcore you will have to go to the other sites where you will find some of the best voyeur footage this side of Christmas. Check out Out Him for example for straight guys jerking off and sometimes getting caught with other straight guys doing gay things. It's deliciously lip-smackingly horny and atmospheric over there. Or go to Damn That's Big for some huge cock action. You've got hardcore in your network as well as these sexy, silly prank movies that Gay Violations is all about.
Clicking back to the network home page I found that your whole collection consists of around 60 movies, mainly on this 'catch it on cam' theme that the tour promised. You can use the menu to find categories of content, amateur, anal, big cock etc, and you can also use the menu to link to live cam and dating sites, and some special deals on sign ups to other sites. You've got a search engine to use if you want to browse by keyword, you can search for models by letter and, back with any of your content, you find various download options and zip files to download galleries more easily.
Bottom Line:
It took me a while to work out what was going on here, I should have paid more attention to the tour, but once I got the gist it was fine, great even. Basically you've got 'real' guys caught doing sexy stuff on cam, like being caught shagging in the car lot, and you've got silly pranks being played on unsuspecting members of the public - but there's always a sexual element involved. It's hand held, spy cam quality, but with bonus scenes from other sites, good search options, some interactive ones, and regular updates.
VISIT Gay Violations NOW!
VISIT Gay Violations NOW!