Out Him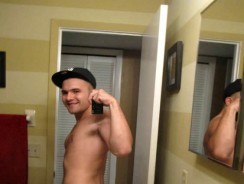 JUB Site Rating:
0 total vote





Out Him's Billing & Pricing
Out Him's primary billing processor: In House
$1.00 for a one day trial
$24.95 for 30 days recurring
$58.96 for three months
$95.40 for 12 months
VISIT Out Him NOW!


Out Him started off as being about straight guys doing gay stuff. Well, we've all seen that kind of thing before since adult webmasters started persuading straight men to get their cocks sucked for cash. There's a certain amount of that going on here, though I am not sure how much of it is for cash. What the site also did was tell us that these guys were straight and we were being allowed to watch them jack off. Wow, thank you very much I am privileged. How do we know they are straight? And what's so 'gay' about a man whacking one off the wrist? These were all questions I had in my cynical mind when I first saw the site at the end of 2009 when it started.

Things changed, I got to like it and the main reason for hat was the way you get treated. So, forget the non-updates for the moment and concentrate on what is here: an archive of exclusive movies where horny and often very straight looking guys come and live out some fantasies. They are either getting touched up, blown or jerked by another guy for the first time or they are jerkin off knowing that gay guys will later be getting off on the spectacle. There are even some scene where straight guys 'come out' so watch out for them.

Viewing is simple: there is a big stream to run that does better the faster your connection, and there are downloads to take in Mpg, Mp4 and WMV with 'HD' offered in some cases too. Some movies have chat and backstory before things start, to help you believe the guys are straight, and all of them benefit from a natural filming style. They are easy to watch and also hot and fun to view as well. You can rate them when you've seen them and leave comments about them too if you wish. Movies are also available in clips as well as full length 20 minutes or so scenes. They also come with good numbers of screen caps and digital galleries arranged separately; the quality there, with the digital stills, is also good and images are up at nice sizes and are easy to navigate.

The whole site is easy to get around actually and you should have no technical problems at all. You can filter and search and you can also easily get to your bonuses from a drop-down list at the top of the page. Other menu items take you to all models or all videos from all sites and these sites include: big dicks and interracial action, sex in the office, more straight men being seduced by guy guys in the moody 'Gay Creeps', massage sex, orgy sex and a site where all kinds of voyeur stuff goes on. It's a very inventive and decent mix of all things hot and gay.

Bottom Line:
I guess Out Him doesn't get a huge score because it only has 48 old scenes and no updates, but it does come along with access to seven other totally horny sites. You get good quality throughout, good viewing, some interactive options and several of the bonus sites are updating every week.
VISIT Out Him NOW!
VISIT Out Him NOW!