Gay Creeps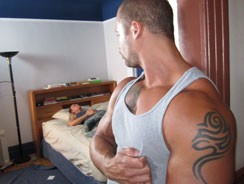 JUB Site Rating:
0 total vote





Gay Creeps's Billing & Pricing
Gay Creeps's primary billing processor: 2000 Charge
$1.00 for a one day trial
$24.95 for 30 days recurring
$58.96 for three months
$95.40 for 12 months
VISIT Gay Creeps NOW!
I remember when I first saw Gay Creeps back in 2009, I sat mesmerised by the atmosphere as I watched the videos. They brought me back to younger years when I'd have a crush on the roommate, or a visiting friend. Times when you'd hang around locker rooms wanting to get a glimpse of the object of your desire, who you knew in every heart-crushing moment was straight. And those fantasies you'd have about being able to strip him while he slept and then play with his straight dick, turn him on, get him to reciprocate and then in a glorious climax of oppressed desire he'd wake up and want you to fuck him, would turn gay and give you everything you dreamed of.
You've got 134 such moments here at Gay Creeps and each one is brilliantly played out with a stunning collection of models and some very horny sex. The videos tend to stay quiet, to start with, as the gay guy literally creeps up to his sleeping roommate or friend. The straight guy is sleeping, and sometimes he's clothed sometimes not, the gay guy gets hard and cautiously stars to explore. The straight-mate might turn over so we can get to his dick or ass, and some of the horniest moments come when he unknowingly gets a hard gay cock in his mouth as he sleeps. Eventually though the guy will wake and be too darn horny to object and either he, or the gay guy, gets an as ramming to remember.
Yes, I like this site! I also like the way that you get a good quality stream that buffers easily and a choice of three kinds of download with each scene. You are able to check a trailer first if you want, and to view the screen caps and digital stills that come with each episode. Everything per scene works from the same page and you have tabs to take you to the various options. I found movies at 1,200 kbps @ 1200 x 700 which were good and clear and ran for around 30 minutes each. OK, so the set-up and 'story' is always the same, but that's the fun of it.
If you're wondering about what else you have with your membership, and perhaps concerned that it might all get repetitive, then don't panic. You are actually signing up to The Gay Room here and so you have eight sites in total and a main hub that lists all the content from the network; that's where you arrive when you log in. You will find even more exclusive videos and galleries with huge hung guys drilling asses, interracial sex, office sex and other fantasy sites to go with them. It's a great deal and the membership fee is not high, not when you consider that you have over 4,637 scenes in total to watch.
The whole thing is fully set up to be interactive as well, apart from a forum. You can make comments, add to a favourites area, and even rate the content. There is a model index so you can browse by guy, there are good search and sort options, good update schedules and news and a drop-down list of the sites to make it easy to leap from one to the other. They all have the same design and set-up, and layout, so you don't have any trouble finding your way around.
Bottom Line:
Yup, apart from the totally horny fantasy material that you get here, the amateur and known-names who appear in the exclusive and good quality movies, you get a great deal of hardcore porn for your buck. If you're after something voyeuristic, different, original and totally good value, then you need a membership to Gay Creeps.
Tags:
Voyeur, Straight, Seduction, Reality, Fantasy, Exclusive, Network, Amateur, Hunks, Gay for pay, Straight Turned Gay
VISIT Gay Creeps NOW!
VISIT Gay Creeps NOW!