Real Guys Exposed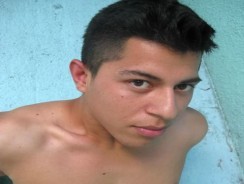 JUB Site Rating:
0 total vote





Real Guys Exposed's Billing & Pricing
Real Guys Exposed's primary billing processor: Paycom
$5.75 for a two day trial, recurs at $18.75 a month
$18.75 for one month, recurring
$22.75 for one month, non-recurring
$39.75 for three months, non-recurring
$72.75 for six months, non-recurring
VISIT Real Guys Exposed NOW!
Real Guys Exposed is about bringing you, well... real guys exposing themselves I guess. It's a site that started seven months ago and it now has 27 guys, 27 scenes and 27 galleries. There are some erotic short stories, a fun and informative blog and a calendar showing you the weekly update schedule. It is designed on a template that many other sites, both straight and gay, use, so you've got a built in navigation system which is logical and easy, and there is some basic information, and write ups about the models.
But for some reason I can't seem to get enthusiastic about it. There is nothing wrong with it, it's your standard solo guys, chat, jerk one off and leave, set up, the quality of the movies is fine, as are the images, and the men are nicely varied. Actually I can do better than that. These movies are exclusive so you won't have seen them before and you get to hear the guys chat to cam before they undress. They come across as natural and down to earth and they are varied in looks. It's a neat collection for all collectors of genuine amateur guys as you're able to hear what they have to say for themselves. And then you are able to enjoy the videos.
You've got to play these in clips if you want to stream and the Flash player is a good and sensible size, but there are download options for Quicktime, iPods and WMV where you have the full scene. Another neat thing is that the camera sometimes explores all of the guy's body and doesn't just stay in once place - there were some neat pre-cum toe curling and foot moments there, some Fleshlight play sessions and shots of some cute asses too. So as well as the variety of the men, with younger and older guys, some with glasses, some Latinos, many white home boys and a mix of skinny to built, small cocks to hung, you've also got variety in the filming.
You've got the galleries too with around 50 to 60 pics each on average. These are good size digital images that are well taken, there are posed shots, good lighting, there are many cum shot moments too, and you can run slideshows of each set and download them as a zip file.
As a member you are also able to make comments about what you see, vote for the guys and the scene, and get slightly involved that way. The blog is a well written thing and is also fun and well put together, and it gives some nice background as to what's going on with the site and the folk behind it. You've got plenty of news on the home page where there is also a search engine available and where you can sign up for the newsletter. You're told who is coming next, you can see the members' top rated guys and scenes, and you can add things to your own favorites area.
Like I said, all very simple and straightforward, and that kind of makes the site ordinary. There's nothing much that sparkles here and you get the impression that you've seen it all before. But you won't have seen these guys before and there is a new amateur man coming to and with you each week, so that's a good reason to hang around. And the site is well priced for what it is so you're not being ripped off.
Bottom Line:
Standard and straightforward, solo amateur guys chat and strip, jerk and cum at this site. There are good viewing choices for your downloads, you can stream the clips, there are galleries and stories and plenty of interactive things to click and do. You've also got a neat blog and weekly updates, and all for a good price.
VISIT Real Guys Exposed NOW!
VISIT Real Guys Exposed NOW!