Straight Guys For Gay Eyes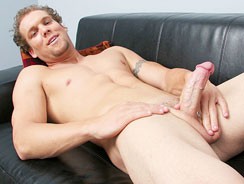 JUB Site Rating:
0 total vote





Straight Guys For Gay Eyes's Billing & Pricing
Straight Guys For Gay Eyes's primary billing processor: Ccbill
$24.95 for 30 days then $19.95 recurring
$29.95 for 30 days
$49.95 for 90 days then $39.95 every 90 days recurring
$54.95 for 90 days
VISIT Straight Guys For Gay Eyes NOW!
(SG4GE) is the place for you. We're not to sure how Jake Cruise manages to do it but he pulls off something unique here; he manages to film straight sex with the emphasis on the men. This means that yes, you will find straight sex here, but no, the camera won't be focusing on the girl and all that she has to offer. It's the other way around; we zoom in to the men, their straight cocks, their manly asses and their sexy, straight-boy physiques.

The home page, in the members' area, at SG4GE sets out the first ten of around 200 scenes for you. Each one has a neat description and a photo of the guy so you can see who you're going to see. These pics warm you up and ease you in to the straight sex element; the guy's cock is on show, as is his handsome face and tight body, and sometimes these cocks are half way in a pussy or a mouth, sometimes they're just standing up there in the wind, hard and primed. And what this does is scream at you that these are genuine straight guys - there is none of that pretending that you find on some 'straights go gay for pay' sites.

The next good thing that SG4GE does is give you information. You have some basic stats for each guy with the descriptions and photos, and you have the run time of the movie plus its upload date. You can see from these dates that there is something new here every week, so it's worth staying a member and taking advantage of the lower monthly subscription that you get after your first month. And then things continue down the user-friendly path as you open an episode. Technically speaking there is nothing to worry about here. PC users are well catered for as are Mac users, there are WMV and Quicktime versions of each scene to stream, and the more recent scenes are filmed in HD so there is no problem with quality. Downloading is also easy and a standard resolution for these movies is around 1.06Mb @ 640 x 360 -with other higher and lower versions also available. There are galleries too with images that open up to 640 x 960 which are nice and clear. Jake tells us that he does a separate photo shoot before the video filming, so the galleries don't always represent the action of the movie exactly, and he also makes it clear that some shots, like the cum shots, were taken from the video camera - you can't expect these straight guys to cum twice in one afternoon, they're not gay after all. So everything that you see and read here is honest and up front.

Jake also makes it easy to find your perfect Mr Straight. There are drop down lists to use to order the content in a variety of ways, and there is a model index, plus a list of guys by name. Just so you know: the guys here range in age from 18 to 46, they've all got great bodies, they all have something deliciously naughty and flirtatious about them, and they are all the kinds of guys you dream about getting off with. And the good news here is that you can - simply run a movie and there you go, you're getting off with a straight guy.

Bottom Line:
Don't panic! Even the women here are sexy but they don't get in the way of your viewing. You have a great collection of real straight guys filmed as you want to see them, with the girls being almost superfluous. Quality is fab, the men are horny, there are regular updates, navigation is easy and what you see on the tour is what you find when you sign up.
VISIT Straight Guys For Gay Eyes NOW!
VISIT Straight Guys For Gay Eyes NOW!