Dick Dorm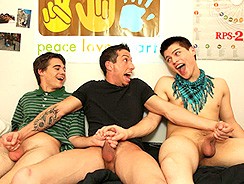 JUB Site Rating:
0 total vote





Dick Dorm's Billing & Pricing
Dick Dorm's primary billing processor: In House
$4.95 for a three day trial
$24.95 for one month recurring
$49.95 for three months recurring
$89.95 for one year, non-recurring
VISIT Dick Dorm NOW!
We've seen reality sites before, we've seen sites where wild parties are filmed on college campuses, but we've probably not seen the likes of this kind of thing. The kind of thing that happens at Dick Dorm.
What you've got here is a site that's fairly new and that doesn't have a huge collection of movies at the moment, but a site that you're going to get addicted to pretty quickly. The deal is this: real college dudes, roommates and so on, can make their own movies and send them in; if they fit the bill then those guys get ten grand and we get to see the movies. They have to be shot in HD, which they are, and they have to involve gay sex.
When you come to watch any of the movies, my advice is to start at the beginning, choose the standard Flash stream if you're on a slow connection, or the higher one if you can, then put the sound on, sit back and enjoy everything from start to finish. This way you get the full effect. You see, these movies are real.
(Or at least, if they are acted then they are acted very convincingly.)
The guys are hanging out in their dorm, but they are filming and they know what they've got to do. Or at least one of them does. There's lots of horseplay, messing around, truth or dare stuff and the kind of things that probably do go on behind closed dorm doors. But then things start to get more interesting as the leader, for want of a better word, starts to cajole his mates into the sexy stuff. This might be simply flashing while talking about girls, showing off, dressing up and stripping for a dare, but it leads, eventually to 'if you suck him I'll give you a grand' type persuasion.
And you really do believe that the guys here, most of them, are straight and having fun. The movies have a good atmosphere, it's lively and noisy at times, and yet, as things start to get serious, it becomes erotic and then horny. Some of he guys don't stop at simply flashing, touching or sucking. I just got back from a three-way fuck and suck fest that distracted me from my day for a full half hour.
So the good points about Dick Dorm are the realism of the movies, the horniness of the boys, and the fun yet sexy way the scenes comes across. Sadly you can only stream these online, in full scene with a slider so you can jump through. The quality is excellent considering it's hand held and amateur filming, and you've got a choice of resolutions. There are galleries to go with each move but there are only seven of them at the moment - the site started in April 2010. Each gallery has images at 864 x 486 in size, with slideshows that you can control, and zip file downloads.
As for extras, you are directed to eight well known sites where, as a member of Dick Dorm, you are offered a 'special deal' presumably on sign up.
Bottom Line:
Although Dick Dorm is small, new and you can only view the exclusive movies while online, you get a great return for your money - especially if you are a reality fan, and a fan of straight guys doing gay stuff. Or a fan of college guys, and jocks. We'd love to see more of these movies, we'd like to be able to download them, but we sure like what's here so far.
VISIT Dick Dorm NOW!
VISIT Dick Dorm NOW!