Unglory Hole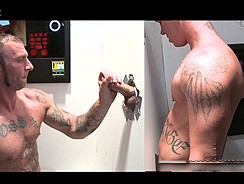 JUB Site Rating:
0 total vote





Unglory Hole's Billing & Pricing
Unglory Hole's primary billing processor: In House
$4.95 for a two day trial
$29.95 per month recurring
$95.40 for one year
VISIT Unglory Hole NOW!
UnGlory Hole hit the net only a short while ago but already it is laying claim to being the best glory hole sites around. Well, I'm not sure about that as I haven't seen all the others, but what I am sure about is that this one is fairly unique. Not only in the glory hole porn world, but also in the world of getting straight guys to do gay sex for cash. One of those sites eh? Yes and no. You see, the thing with this one is that the guys don't know that they are having gay sex, until it's too late.
So how does that work then? Actually, very simply. The team go out and about and find sexy looking straight guys and a sexy looking lady chats them up. She persuades them to come to the booth, studio, or wherever the movies are made, and the deal is that she blows them through the hole in the wall. Only she doesn't. She may start off, she's certainly on the other side of the wall, and she's talking to them, encouraging them and leading hem on... but a gay guy takes over from her for the full blow job, wank and cum shots. Little do the str8 boys know what's going on. They think they are getting a pair of feminine lips around their shaft, while the straight porn plays on the monitor, but actually it's another guy.
That's the main thrust of the site and it's a scenario which is repeated in each of the 14, so far, videos. But the movies do not get repetitive, although the action is always the same, and that's thanks to the men who appear. They are pretty similar, in that they are hunky, cute and amateur, but their reactions and their dicks differ, as do the set up conversations, and the realisation moments.
Now then, here's the downside. The movies are stream only and the resolution is quite high. That's fine if you're on a fast connection, but if you're on a slow one you will need to buffer before playing, if you can, and this could take some time. I suffered from a lot of start and stop on a medium connection. You only get one version of the movie, but you do get a choice of full scene or 'chapters' of two minutes each, so you can skip to the cum shots, or the realisation moments
(when they happen)
if you want to. You get a collection of screen caps with each one too; hundreds of frame by frame shots which, during the main part of the action, seem to look more or less the same.
But on the upside, the quality is good, the moves run for a good length of time at around 20 minutes and there is a really neat visual trick in use. There are two cams filming each episode, one on either side of the wall, and the screen is then split. So you are looking at the straight guy and his expressions on the right
(usually)
and the gay guy, the cock and the BJ on the other.
So, a neat set of original movies, well filmed, all on niche and all horny to view. Anything else? Well, here is a Bonus Sites page but this doesn't actually give you site access to the likes of Cody Cummings and Bait Bus, but 'special deals' for UnGlory Hole Members who sign up.
Bottom Line:
It's new, it's original, it's hot and horn and it's well put together. Stay around for more updates and stay a member to view the movies. You've got real straight guys tricked into gay glory hole action, good filming and hot guys. Not many of them yet, admittedly, but what you have got won't disappoint you.
VISIT Unglory Hole NOW!
VISIT Unglory Hole NOW!