Big Cocks And Jocks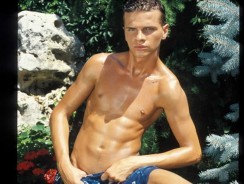 JUB Site Rating:
0 total vote





Updated: 2011-06-24
Primary Categories: Gay Porn Stars
3 Galleries
Currently No Videos
Big Cocks And Jocks's Billing & Pricing
Big Cocks And Jocks's primary billing processor: Paycom
Big Cocks And Jocks's optional billing processor(s): Ccbill, Jettis
$2.95 for a trial membership
$29.95 per month
$59.95 for three months
$89.50 for a year
VISIT Big Cocks And Jocks NOW!


As for the collection we are looking at here, there were 50 videos taken from 12 DVDs and 14 photo sets to drool over before going off to explore the additional sites that really boost your value for money. This network has undergone a change recently and is now totally up to date in terms of design and look. This means that as well as having quality porn to view, you've got all kinds of modern ways to interact and even socialize - it's a bit like a social networking site with horny porn thrown in too. You've got favorites areas, comments, email a mate, profiles and all sorts of ways to vote and rate what you see.

And what will you see? Well, how about groups of hunky athletes in lycra and other kit, slowly undressing, bulging out if it with ripped muscles, hung cocks, full nuts and enough hardcore to keep you hard and happy for a very long time. I checked out one title and found a camping scene - not that kind of camping! Jocks around the camp fire, their mouths full of each other's tenting poles and a good quality fuck fest in between a good start and finish; there was a story line here, though rather to the point: jocks go camping, screw and go home.

To be honest I was looking for the lycra busting scene that the tour showed me and found it eventually, but I had a great time looking at other scenes on the way. You can view them in Flash as a whole scene and there is also a neat function where you click a thumbnail shot to start the stream just from that point. You can also download the full scene in WMV and Mpeg format and view the scene in parts in a lower resolution format. This means that everyone should be able to find some way of viewing the well made porn. And it is well made. I have this 'marker' that I use, well I have several, but one is subtitles. If there is dialogue and it's not in English I look to see if the makers have bothered with subtitles for those of us who don't speak Magyar (or whatever). Big Cocks And Jocks does have subtitles so the makers do take time and trouble over their productions, and this is reflected in the great quality end results.

But, on top of good quality scenes, hung sporty guys, hardcore, screen cap galleries, good viewing choices and all those interactive options, you also get your bonuses and regular updates. So, for hot jocks, hung dicks and a load of other special porn this is the network to join.

Bottom Line:
You're well looked after here. Not only do you have well made scenes that are well thought out, perfectly put together and easy to access, you have some stunning and exclusive models in the exclusive productions. And then you've got a set of bonus sites and extras to rival the best of them.
VISIT Big Cocks And Jocks NOW!
VISIT Big Cocks And Jocks NOW!