Hot Dark Studs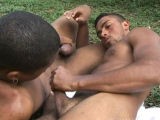 JUB Site Rating:
0 total vote





Hot Dark Studs's Billing & Pricing
Hot Dark Studs's primary billing processor: Ccbill
$34.95 for 30 days non-recurring
$54.95 for 90 days recurring
$24.95 for 60 days recurring - special offer
VISIT Hot Dark Studs NOW!
Hot Dark Studs promises to fulfill all your dark pleasures, and they certainly make sure that they only feature dark skinned, hung, cute and horny black guys. They also make sure that it is easy for you to get to your content once you are signed up, and they even make sure you get additional value for money with their special sign up offers.
(Act now, it may be too late...)
And what do they actually give you in return for your hard earned cash? Well, so far they've got 30 exclusive movies all staring those deliciously hot and horny, dark and edible hunks. (Well, they love to eat each other, their asses, their cocks...) Starting off at the home page you find that what you see, as a member, is what you see on the tour. You have all your scenes listed three per page across 10 index pages; click the triangle to go to the video page and the large sample image to go to the gallery for each scene. There are descriptions and other sample pics to show you what's going to happen.
Actually it's easy to know what's going to happen: after some initial setting up of a scene, two or more sexy black guys will start screwing each other, sucking hard cock for a good length of time and then will finish off in explosive cum shots. Many of these movies were filmed outdoors which adds another layer to the exotic productions, and all of them were worth the sign up fee on their own. Like them? You bet.
I also liked the way you view them. You've got a neat Flash player to stream the full scene in two qualities, though the faster your connection the better as even the low one gave me some start and stop on a medium connection - mind you, the upside of this is that the quality is fab even at full screen. You can also stream the scene in clips or download the whole show in Flash format, so you're going to need to be fine with Flash whichever way you look at it.
Galleries come with each scene, you've got an online version and a zip file of the whole set. If you view on line you get individual pics opening up in... yes, you guessed it, Flash, and these are in slideshows. Images are a medium size at 600 x 450. Screen caps maybe, but they're not too bad for quality.
You can expect updates to the site about once a week. There are dates published with the existing content and there's a neat 'coming soon' page which lets you see a trailer of what's on its way. As for other things, there are links to help and support if needed and a link in the main menu to French Connection - the porn store not the clothing company. It's all very simple, clean and efficient in here and that concentrates your mind and eyes on the porn, which is well made and 100% Hot Dark Studs.
Bottom Line:
How would I sum this one up? Simple and to the point, on target with its genre, small in terms on content, but it is exclusive and horny in terms of viewing. It's wall to wall black dude sex in here, well tree to tree as most scenes seem to happen outside, and it's all good quality, easy to view and well put together. Grab the special offers before they vanish and settle in for more horny black on dark skin hardcore.
VISIT Hot Dark Studs NOW!
VISIT Hot Dark Studs NOW!