All Gay Reality Pass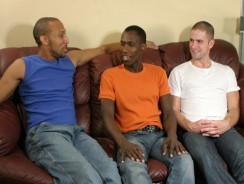 JUB Site Rating:
0 total vote





All Gay Reality Pass's Billing & Pricing
All Gay Reality Pass's primary billing processor: Paycom
3 Day Trial - $4.95 - rebills at $39.95
30 Day Pass - $39.95 - auto rebills
VISIT All Gay Reality Pass NOW!
At All Gay Reality Pass you get access to seven hard-core, reality sites for the price of one. It's probably easiest if I tell you a little bit about each one to whet your appetite and then you head off to sign up; we'll keep it clean and simple. But first I should mention that these sites concern themselves with straight and gay guys' first experiences with hot gay sex, twinks and muscle studs and all sexy stops between.
At the home page, once you're in, you will find a whole list of feed sites down the side, the seven sites' updates at the top and the sites themselves beneath this. At the bottom you will find a list of the media players you will need and links to customer service if you need any help viewing the videos to come. So that's the extras taken care of now for the sites. Hold on to your hats
(and your cocks)
it's going to be a wild ride.
His First Facial is first on the list and this one opened in a new window. You get straight to the content with 40 movies to choose from. You've got each 'star' appearing with a face pic and links to the video and image gallery and there are some sexy, average looking guys here. The premise of the vids is usually the same: a guy from the street is persuaded into a gay sex session which culminates in a facial. My favourite thing about this site is the way the guys protest (pointlessly) just before they get a wad of jizz on their faces. You can stream clips in three speeds from 56 kbps to broadband, the player is a reasonable size but if you want to download the full version you will have to pay.
Gay College Sex Parties has 72 videos and galleries too and the theme, unsurprisingly, are wild college parties. Apart from dark scenes filmed at the parties you get sex scenes between college dudes and these are generally filmed in more private surroundings. The technical things are the same as on the first site and the image galleries open as thumbnail pages that lead to larger pictures in the standard way.
Gay Blind Date Sex takes two strangers and throws them together on their first date. The camera then follows them around and films all the naughty goings-on that the boys get up to. Like the other reality sites the guys are average in looks but hot in the sex department and, so far, I have not found a video on any of these sites that I did not like. Again, there are 71 movies and galleries to be streamed and enjoyed.
His First Gay Sex features more of the same
(but I am not getting bored)
with sexy amateur straight or curious guys allegedly trying out gay sex for the first time. There are over 70 more movies here with black, white and Latino studs getting down to raunchy gay sex in vids and picture galleries. There are some cute twinks in the couplings too and everyone performs with relish and abandon.
The theme is continued in His First Huge Cock with more first timers experiencing some very large cocks in their virgin asses. This site has 156 movies and galleries and this one alone will take you hours to view with movies running for around 20 to 30 minutes. They are still in streaming clips and three speeds but you would have got the hang of that by now. Images on all sites tend to be 600 x 800 in size.
Twinks For Cash takes a young innocent boy from the street and the two lucky guys who seduce him pay him more money each time he goes one stage further. He usually ends up being screwed across the desk and this is one of my personal favourite sites. Same technicalities apply only now you have young twinks and two older guys performing the action in 110 movies.
Finally,
(phew!)
Hot Muscle Dudes brings you 13 videos and galleries featuring - you guessed it - muscled guys posing and jacking off. Hot stuff indeed at this, the newest of the collection to be added to your pass.
Bottom Line:
You have over 500 full length reality porn movies to watch here plus regular updates and extra feed sites. It's all good quality, so don't hang about reading this go and sign up!
VISIT All Gay Reality Pass NOW!
VISIT All Gay Reality Pass NOW!