Kristen Bjorn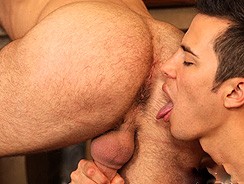 JUB Site Rating:
0 total vote





Kristen Bjorn's Billing & Pricing
Kristen Bjorn's primary billing processor: Ccbill
$24.95 for 30 days, recurring
$34.95 for 30 days, non-recurring
$21.95 per month for three months (one billing) non-recurring
$15.82 per month for six months (one billing) non-recurring
VISIT Kristen Bjorn NOW!
Kristen Bjorn is English by birth, though he was raised in the States, later he lived in Brazil and set about producing erotic photography and later movies; he's been doing this for a while now and one thing's for sure. He knows what he is doing!
Check out his site for links to where you can buy his movies, for information about him and his production company, and for sexy images of the top stars who appear for him, then sign up and log in for the thrill of a lifetime.
Inside the members' area you will find all kinds of interesting things to click and see. Things such as: links to a video on demand area, a store, a mailing list you can join, news on recent updates to his stock of movies and to the site, sample scenes, a model profile of a featured sex god, photos, interviews, behind the scenes footage and a blog. This is one of 'those' sites, one that isn't just about some hot flicks and a quick jerk off before work. It's not one where you simply view content and leave. This is a place to come for all your sex needs to be taken care of, and not least of all by the movies that members can sample on line without having to spend out at the store to by them, as mere mortal, non-member must do.
The available movies here are arranged in neat categories, under the Web Videos tab in the menu. You've got clips from the casting sessions for new talent, there are bareback clips, backstage ones, scenes from feature films, previews from up-coming movies and downloads specially for iPods. Taking the feature film scenes as an example I found over 35 Kristen scenes and couple from Lukas Kazan, and my only problem was which to watch first. They are all shown with sample images that contain more heaving, tooled flesh than one can generally cope with in a quick glance... so I closed my eyes and found one at random. This one, like the others, was available as a Flash stream in two resolutions, to suit high and low bandwidths, but there was no downloading. So I guess the content here is protected in that way - you will have to stay a member to view or else go and buy the full DVD from the store, or watch it in the On Demand area. But watch it you should as the quality is fab, the direction is Hollywood standard and the men will have you fantasizing for many nights to come.
And talking of men, the Model index is another place that will have you dithering with your pointer. Which hunk to view first? I say 'hunk' some of these guys are more 'jock' or possibly even 'mature twink' if there is such a thing, while others are 'studs' and you may well cum across the occasional 'dad.' And here's the second problem: who to look at first? There were over 400 models in this set of perfect looking, hung and spunky guys, and oh for a category list or filter.
(There is a search box where you can search the site generally though.)
The guys come with some basic info and a neat pic, often naked, and a link to their movie, as available in the store. I chanced across one guy who had links to a gallery and there found hundreds of erotic images in perfect picture galleries. You just keep finding new and exciting things at this site.
Bottom Line:
Blog, theater, store, collection of exclusive movies, perfect quality, perfect guys, great photos, news and info: and all from the master of quality and eroticism Kristen Bjorn; sorry to have keep you, go and sign up!
VISIT Kristen Bjorn NOW!
VISIT Kristen Bjorn NOW!