Vintage Gay Loops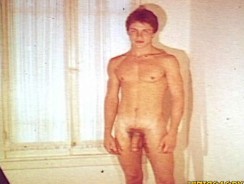 JUB Site Rating:
0 total vote





Vintage Gay Loops's Billing & Pricing
Vintage Gay Loops's primary billing processor: In House
$2.95 for a three day trial, recurring
$29.95 for 30 days, recurring
$68.95 for 90 days, recurring
VISIT Vintage Gay Loops NOW!
I owned a gay video once, back in the days when video was just starting to become popular. Then you had to go to a movie theater to see your gay porn, or rent or buy a cine film. The one I had was called Blondes Do It Best, or something, and it had a really horny scene with a young blonde guy getting drilled by an older cowboy. I wore the tape out and haven't found it again since. And that's one reason why I am keen to stay around Vintage Gay Loops for a while, to see if they will one day digitally re-master that movie and put it up on their site. That's what they do. They preserve some of the hottest and best moments from early gay porn and keep them safe and cared for on their site.
Actually they do slightly more than that. They also give you a history of 'gay' from years BC to the present day. That's just a minor distraction though, and a good one. The main events here are the old movie scenes that are now tidied up and ready to rock you. There were 50 of them when I called in and they ran from around eight minutes to around 20, it depends on the movie from which they come.
Basically you choose what scene you want to see, from the list on the main movies page or from that recent update list on the home page. You find a large Flash screen to stream in, with two choices of quality, and a set of download options, high and low quality, a trailer and a set of screencaps. Simple and effective.
My first question here was about quality. You have to accept that these are movies that have come from celluloid or video, and that were not originally filmed in what we now know as a high definition format - though they were probably the highest they could be at the time they were made. There is some 'crackle and hiss' in the visuals, as you expect from 'oldies' but someone has done a masterful job in tidying them up as best they can. They will be a bit fuzzy at times, and sometimes it's better to view the lower quality versions, strangely, than the higher ones - the smaller screen seems to take away some of the imperfections. But all said and done, they are here and they are preserved. And they are very horny too. Look past the dodgy hair cuts and costumes and watch the pre-condom porn, made the way it was supposed to be made.
You will find plenty of hunks and you're 1970s types in here, with Californian boys from the past, hardcore scenes, oral and erotic ones too, and you're going to love the soundtracks. They weren't as bad as I'd imaged, the music might very well be up to date rather than the original, and it somehow adds to the eroticism of the scenes rather than making you laugh.
The only thing I might mention as a very slight downer at Vintage Gay Loops, is that I would have liked to have seen more information about the scenes: who made then, who appears in them and so on. But there is a fab blog to check out news and updates and this has general info about gay porn history too - like the photo box covers you get to see, this is history in the preservation stage and, apart from the vintage horny clips and scenes, this is a great thing to see on a gay adult site.
Bottom Line:
A combination of gay history, news and information about gay porn from the past, and some pics and screen caps, plus some great scenes from the past now preserved forever, Vintage Gay Loops is not only going to do your dick a service but it is doing a great service to the gay community generally. Top marks for that.
VISIT Vintage Gay Loops NOW!
VISIT Vintage Gay Loops NOW!