Gay College Sex Parties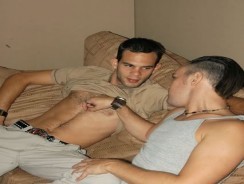 JUB Site Rating:
0 total vote





Gay College Sex Parties's Billing & Pricing
Gay College Sex Parties's primary billing processor: Paycom
7 day Trial - $9.95
30 days - 42.95
90 days - 64.95
VISIT Gay College Sex Parties NOW!
You are in for a wild old time when you sign up to Gay College Sex Parties. The party has only just started at the home page where you will find not only the exclusive videos and galleries abut all the extras too: thing like feed sites, stories and bonus access to other hard-core members' areas.
But first to the parties. You will find these under the videos tab at the top of a list of feed sites. Click the site name for a new window and the videos proper. You will see there are 72 videos, or at least there were when I was in the site, there may well be even more by now as updates happen regularly. What happens is this: all these college dudes turn up to a wild party and chat, drink, dance or whatever. These are young guys and include Latinos, white and black boys, it's a really good mixture. You select your scene and then view it either as a stream, (in Flash or Windows Medial Player) or as a download. In the more recent movies you have five options for quality: dial up, DSL, Broadband, T1 and HD ... the time a movie takes to stream will depend on which one of those you select. Each movie comes in clips but you can also opt to watch or download the full version so there are plenty of viewing options for you: no one should have a problem viewing these movies. In the older ones you have three choices of streaming speed but I couldn't see a way to download them.
The movies start with the party and the guys usually start off dressed. In the ones I saw it didn't take long for the clothes to come off and there were guys hanging out at the bar naked, two guys fucking in the middle of the club and all kinds of other hard-core sex going on around them. Actually there was one thing that got on my nerves after a while and that was the soundtrack. It was all great fun to start with as you have the natural club sounds going on around you but then, when the sex starts, the sounds of the party tended to get in the way. I like to hear the guys as they fuck not queeny boys complaining about the price of the drinks or calling each other "bitch" while I'm watching a young stud get ass-banged. Maybe it's just me, after all this is a reality site and I guess that's the reality.
I'll leave it up to you to discover the joys of the other parties when you sign up but just let me say that on the whole the videos are reasonable quality, very often dark because of the locations, but there are some away from the noisy bar scenes too; though these can also be rather dark. Each one comes with an image gallery with 600 x 800 sized pics and you can vote on what you thought of each episode.
Don't forget that you also get loads of feed sites with more hot content and it is a very varied collection. There are also more galleries and stories and links to shopping, chat and dating sites to explore too.
Bottom Line:
The content is fairly original and as well made as sex filmed in a busy night club movie can be. There are good viewing options especially on the most recent movies and there were no technical problems at all. Stick with it for more updates and while you are waiting you can enjoy the plentiful feed sites and other extra bonus sites all six of which give you full access and more reality porn.
VISIT Gay College Sex Parties NOW!
VISIT Gay College Sex Parties NOW!