Haze Him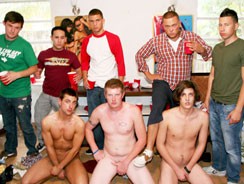 JUB Site Rating:
3 total vote





Updated: 2010-02-02
Primary Categories: College Men
Secondary Categories: All American Boys, Amateur, Fetish, Gay Hunks, Glory Holes, Group Sex, Hardcore, Straight Men, Video Downloads, Video On Demand, Younger
180 Galleries
248 Videos
Haze Him's Billing & Pricing
Haze Him's primary billing processor: In House
$4.95 for a two day trial
$29.95 for one month
$89.95 for one year, non recurring
VISIT Haze Him NOW!
You may know how this goes: you're in a frat house, you're sharing a room with a cute guy but he's straight, you've got loads of other straight louts living around you and every night is macho party night. Then one day a party gets out of hand, the chicks didn't turn up, or maybe they weren't invited, so the guys drink and boast, talk about their conquests and have a high old time. And then some bright spark suggests a competition... 'Let's strip and see who's got the biggest dick.' And it goes on from there and the fun doesn't stop. 'Dare you to suck it,' 'hey man I'm not into that shit...' 'Just for a moment.' 'Ok as long as you fuck me afterwards.'
(My words, but you get the picture.)
Well, that's a kind of rough idea as to what Haze Him gets up to in its exclusive videos. These are, we're told, genuine college guys from the USA who don't mind what they do. For this reason you've got some very realistic scenes, with neat build-ups and fun parties that will, eventually, lead to some hot man on man sex, and yes, some of the guys probably are straight too so that's another level added.
And it's well filmed. You'll need to have a fast connection and like to stream in Flash as that's your only viewing option, and I didn't see any downloading, but as long as you can run a stream without start and stop, you're gunna have a great time. I am on a medium connection and I did get some start and stop, with the sound continuing as the image froze, but let things buffer and be patient and you should be fine.
The guys are cute, well, they are varied. In their 20s, college guy looks, and builds with some athletes in there and some almost twinky types. It's a nice mix and the sex is horny too. What I really liked was the way fun continued off camera as we viewed one of the guys getting his ass drilled, for example. The other guys were still chatting and generally having fun, so the atmosphere was kept throughout. I would have liked to have been able to download the movies, either in full or in parts and both ways to view are available, but I could download the images.
Haze Him lets you see screen caps as well as digital shots, so you are well looked after in the image department, the galleries hold good numbers and the quality of the pics, even the screen caps, is great. There were no slideshows or zip downloads but navigation is easy.
So, the site keeps its theme, it's small on numbers with only seven episodes so far, but these are all tops and fit the bill, they're great to view and come with many photos. There is a page of reviews too which holds some free video clips and there are special offers for members to view and maybe join a couple of other sites. You've also got a link to a live cam site in your embers' area, with a collection of amateur clips to view, for a price.
Bottom Line:
It's a small site, yes, but Haze Him hits its niche nail on the head. The videos are fun and then erotic and then bloomin' horny the guys are perfect for straight jock and college guy types. The viewing is by Flash stream only but you can keep all the pics you want. And the updates are happening around one a week so it's a growing site. It's even got a nice mix of extras. More content would get a higher score from me but for everything else, it's a good value site to be a part of.
VISIT Haze Him NOW!
VISIT Haze Him NOW!