Man Buttered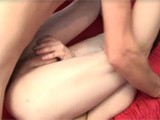 JUB Site Rating:
0 total vote





Man Buttered's Billing & Pricing
Man Buttered's primary billing processor: Paycom
Man Buttered's optional billing processor(s): Ccbill, Jettis, Wts
$2.95 for two day trial
$29.95 for 30 days recurring
VISIT Man Buttered NOW!
If the term 'buttered' is new to you then you might like to know what it means. At Man Buttered it means that, after some raw, bareback hardcore scenes, the guys get themselves covered with cum. That's it in a nutshell really, but there is more to it than that.
Actually there is not a lot more to it than that as the site is, I assume, quite new and has only 16 episodes on it so far. As there were no upload dates with these movies and galleries I can't tell you if or when there may or will be new episodes being added. I hope there will be because the ones you have are fine and horny, as far as they go. Though they are a bit the same. It's all very well putting your models in T shirts with the name of the site written on them, but if they all wear then it gets a bit un-original. And the guys themselves are strangely similar. They've all got a certain amateur feel to them, even though they differ in looks and bods, cocks and asses. Maybe it's something to do with the fact that each scene appears to be shot in the same room and in the same way. There are no build-ups or storylines here, simply two guys making out on a sofa and heading through hardcore and bareback moments to the grand cum-splashing finale.
I am still waiting for my stream to get to that point, as I write. You can't jump through the streams, though you can download them in two resolutions of WMV. As I wait to check out the buttering, I guess you'd call it, to see if it is as wild and messy as the tour suggests, I'll have a quick click around the other pages
(in a new window so I don't lose the stream)
.
Ok, you've got a page of live cams, well, you've got a page of links to suggested live cam up-sell sites. You have a page of four bonus videos, the box shots are there but the text/images are missing - but the link to the streaming bonus movies still works if you move your mouse around. There's a VOD page where you can click over to three video on demand sites, and there is an About page where we're told there will be two new scenes a month and that the team set out at the end of 2008 to make porn they couldn't easily find elsewhere. And you've got a support page. If you log out then in again you'll get a message reminding you of your access to another bonus site too.
There isn't a large amount of content, or many additions, here at Man Buttered and I am still waiting for my facial finale stream. I'm on the cock sucking stage at the moment and we're nearly half the way in to the move. Oops, no, now we've suddenly flashed to the bareback part, and I have to say the guys do look rather bored with it all. Meanwhile I'm checking out the photos and finding around 120 pics per set that are 547 x 814 in size and nice and sharp and clear. And lo! At the end of a click through 15 pages I found the cum-pay section. Not exactly buttered this one it's a creampie, with jizz being squirted back out of the recently battered ass, but then there were a few shots of a facial that followed. So yes, there is some buttering going on in here and there is a certain amount of horny bareback before it. And if you were wondering about my stream... One guy came up the ass of the other, he squirted it out again, the top guy they 'jerked off' over the face of the bottom boy but as he 'came' he vanished from shot, left, and someone off stage, right, squirted copious amounts of condensed milk in bottom boy's face. Hmm.
Bottom Line:
Not a lot of content, no news on updates in the members' area, some standard and fairly repetitive scenes followed by a little creampie and facial action.
Safe Sex Notice:
This gallery contains images of unsafe sex practices, also known as barebacking. Engaging in sexual practices without the use of a condom is a risky and unnecessary behavior. There are a lot of studios including the one listed on this page that film bareback or have bareback scenes in their content libraries. The images presented below should only be used for fantasy and you should not deceive yourself into thinking that "everyone is doing it." Further, you should not assume that just because you see photos or film content of barebacking that sexually transmitted diseases have been miraculously cured. HIV and other sexually transmitted diseases are very real and potentially lethal. Please practice safe sex in your own life and educate yourself regarding the dangers of not wearing a condom before having sexual encounters. Visit AMFAR for more information about safer sex.
VISIT Man Buttered NOW!
VISIT Man Buttered NOW!