Lollipop Twinks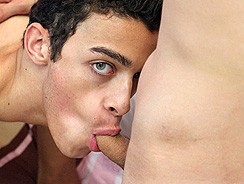 JUB Site Rating:
0 total vote





Lollipop Twinks's Billing & Pricing
Lollipop Twinks's primary billing processor: Ccbill
Lollipop Twinks's optional billing processor(s): Paycom
$1.95 - 3 Day Membership
$4.95 - 7 Day Membership
$24.95 - Monthly Membership
$49.95 - 3 Months Membership
VISIT Lollipop Twinks NOW!
Lollipop Twinks started in July 09 and has been building up a set of, so far, 13 exclusive episodes that shimmer in a haze of sexuality. They all feature youthful, smooth and impossibly gorgeous younger guys, and they all involve hardcore sex of course. Some of the boys leap around their bedrooms acting like camp young things, but they soon get serious when the stripping and kissing starts.
So is Lollipop Twinks any different to any other twink site? Well, on the face of it, no. You've got well made scenes, good photography and very good looking smooth young guys involved in sex scenes. You've got good viewing choices with high quality downloads in WMV and IPod compatible versions, and there is a good choice of four Flash streaming qualities. There are neat image galleries, there are clear links, interactive options, descriptions and a model index. You can rate content and add things to a favorites area and the main movies run for good lengths of time.
All sound a bit familiar? Well I guess it is; but you will be able to compare this site to any of the top, exclusive twinks sites out there and find it matches up to them perfectly well. With more content it would get a higher rating from us, but come back in a year's time and you'll probably find it has a five out of five. But don't wait for that. Join it now and you will find enough to keep you going and give you good value.
For a start there are those exclusive scenes with the youthful twinks sucking and fucking their way to immense cum shots. Then there are three other sites to click into to find even more hot boys and hardcore sex. And you have a set of feed sites too, but unlike many other porn site that provide feeds, Lollipop Twinks
(and others in the network)
bring you a special few, and they set out the feed content in the same way as their main content, so again you get descriptions updates and news.
All that, and all those little details, do set the sites in this network up there with the best of them, and just about put the sites at the very top of our all time fav twink sites. Almost - again it's the numbers thing, but this is a new site so we will allow it that.
Blah di Blah - back to the boys. There were 88 in the model index, but remember that this index s for all the boys in the various sites. You can simply find who you like the most, click and read stats, then jump over to the site(s) he appears in, unzip your pants and get ready to play. Like everything else here this index is easy to use and presents no navigation problems at all. You're also able to sort this model index by various categories including age and 'pubic area' which is a prim way of saying 'shaved bush or not' etc. And when you find your absolute favorites you can send in a request to see more of him - go on, give your best boy some more work.
Bottom Line:
Lollipop Twinks is only one part of a bigger set up that allows you access to other great twink sites and more. But the best thing about it is the fact that it finds original and exclusive young guys to go all the way in well made and highly collectible movies. This is a twink site that, although still small on numbers, ranks up there with the bet of them. It's easy to use, actually it's fun to use too, and it's top quality throughout. There are loads of interactive options, some load blowing boys and regular updates.
VISIT Lollipop Twinks NOW!
VISIT Lollipop Twinks NOW!