Hard Friction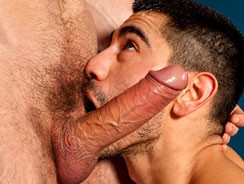 JUB Site Rating:
0 total vote





Hard Friction's Billing & Pricing
Hard Friction's primary billing processor: Ccbill
Hard Friction's optional billing processor(s): Paycom
$24.95 for one month, recurring
$49.95 for three months, recurring
$99.95 for six months, one time charge
VISIT Hard Friction NOW!
When I see the names Steve Cruz and/or Bruno Bond associated with a site I always know that I am in for a great time. The guys are going to be top models, the filming is going to be top quality and there are going to be loads of hot and exciting things inside the members' area waiting for me. Which is exactly what was going on at Hard Friction when I went to see it for the first time.
You start off with a good design, nice and dark and moody so you're set up for a feeling of danger and thrills, then you check out the models on the tour and see hot and hard, older and hairier guys, hard guys, smooth ones with hung cocks and all the kinds of men that you associate with a hot and hard site. And then, once you're in the actual members' area, things really start to get interesting.
There is news here, regular and recent, so you can keep well up to date with what's going on; you can instantly search the site and then join in the members' poll. Steve and co. tell us that they are presenting us with the hardest and hottest guys from around the world, some established stars are featured, as is loads of new talent. The top menu leads you easily to everything:
Five hardcore scenes featuring the likes of man of the year Austin Wilde as well as our two hosts, Steve and Bruno. There are five choices for streaming speed here
(Flash)
, and one for WMV, a large file this so be prepared. Also be prepared for good quality and hard action. Not a lot of hardcore scenes yet, but there will be more very soon, and each one comes with a nice set of photos too - so loads to collect there. Then you get to the Hard Men area for 13 guys in the expanding model index. From here you can click over to their appearance and, like everything else at Hard Friction, what you see can be rated. There are some screen tests to view too, so you can see the newbies in their first ever appearances, a great way to get to know them, and then there are some erotica scenes for you. Actually there were only two here when I called in, and you have to remember that the site is still young. But it's one that's worth staying around in for more hot and exclusive, brilliantly made, and easy to access movies and galleries.
But it then starts to go a little further. Check the Live area to see when your included live shows are going to take place
(regularly)
and watch the archives. There were 68 pages of these bringing you 272, long, archived live cam shows, so you've got plenty to view there while you wait for one of your special hunks to come on live. There's a schedule too, so you shouldn't miss any of the performances. Your membership includes access to a set of 29 varied feed sites, so there is even more to view and play with while you wait for more exclusive content to be added to your main collection. You've got a place where you can apply to be a model, but you're gong to need to be fairly special to get into this top company's books. And then you can view selections from earlier Steve and Bruno movies and see how the whole kit and caboodle came about. It's a neat collection of extras and there are many more hours of all kinds of viewing here to enjoy while the site builds.
Bottom Line:
Small, new, but growing and all top quality, Hard Friction is a great pace to come for exclusive and hardcore, solo and erotic, hard-men porn, with a great company behind it and loads of extras to view while you wait for the content count to grow.
VISIT Hard Friction NOW!
VISIT Hard Friction NOW!