Stag Homme Studios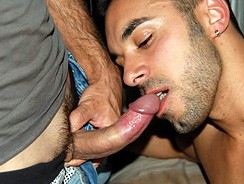 JUB Site Rating:
0 total vote





Stag Homme Studios's Billing & Pricing
Stag Homme Studios's primary billing processor: Dhd Media
$24.95 per month recurring
$59.95 for three months, recurring
$99.95 for six months non-recurring
VISIT Stag Homme Studios NOW!
A quick background: Stag Homme Studios was started by Francesco D'Macho and Damian Crosse, real life partners, when their contracts at Titan and Hot House came to an end. It's all about raunch and hardcore and dirty fantasies including BDSM and pissing. And you can get in for under $25.00 per month.
After logging in I came to a home page which had a look and feel of certain other websites about it. I mean that in a good way, it's a template design here and one that works very well. You will get a smooth running site, with the full range of interactive options and easy navigation tools. It's dark and moody and made even more atmospheric by the first sightings of the kinds of guys we are going to see: horny, hard-bodied, fit, tough, raunchy, well hung and, by the looks of it, up for everything. The home page is awash with sample images from the recent updates, search and sort options, category lists, information and news.
The top menu will get you to the main areas and I started at XXX Features.104 scenes were here dating back to 2004 presented, in recent updates as stream and downloads with one choice of WMV download and one choc of Flash stream. Resolutions here were up to 2,000 kbps @ 1280 x 720 (sometimes faster). The quality is fine and just what you would expect from experienced film makers and porn stars and I had no complaints on that front. It's not actually a complaint but a few more viewing options would be nice, mobile versions, clips and parts for easier downloading on slower connections, that kind of thing. But the options chosen for me worked find and the quality was good.
The action is as advertised, hardcore and full on with lots of nice fetish stuff, BDSM and hardcore fucking. The movies come as parts of series and there is an area in the menu where you can find the series: "30 loads of facials", "Straight man fucks me", and "Stag TV" for example. Or you can head to the All Videos area where you find all 140 scenes, some of which, I assume, don't come from the series.
You are able to add scenes to your own favourites area and also rate them as you go through them and they also come with images. These are found on the viewing pages per scene and click up to 1,000 x 665 in size where they remain clear and good quality. There are slideshow functions and easy navigation here too. There is a model index with 64 guys appearing and you click one of the big body or face pics to see a list of his appearances, making this another neat way to search out content. And, for bonuses, you can head to the Bonus area where there are three pages of 46 varied feeds to click into for something different.
Throughout the site I found the promised hardcore from two very experienced guys; models turned webmasters and producers. I found good camerawork, neat videos, limited with viewing choices maybe, but good enough online quality, and decent downloads. The images were based around quality not quantity and I found the whole site worked smoothly and well. I have to say that I thought the update schedule could be improved upon; there were only two updates per month showing on the home page.
Bottom Line:
Stag Homme gives you hard, muscled, tough, butch and horny guys in exclusive movies that you can stream and download. The quality is good, the site is easy to use and interactive, you can rate content and models, and here are some bonus feeds as well. The update schedule ambles along and is not as pumping as the action, but that action is exactly as promised and the site is not expensive to join.
Tags:
Hardcore, BDSM, Fetish, Pissing, Exclusive, Leather, Hung, Muscles, Studs
High Definition 2,000 kbps, 1,280 x 720
DRM Free Porn Yes
Downloadable Yes
Content Format Scenes, series, model index, extras, blog
Live Shows No
Bonus Content 46 feed sites
Multiple Site Hub No
Content Updated Twice per month
VISIT Stag Homme Studios NOW!
VISIT Stag Homme Studios NOW!