Teach Twinks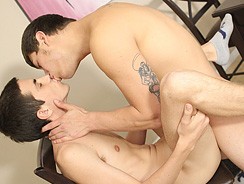 JUB Site Rating:
0 total vote





Teach Twinks's Billing & Pricing
Teach Twinks's primary billing processor: Ccbill
Teach Twinks's optional billing processor(s): Paycom
$1.95 - 3 Day Membership
$4.95 - 7 Day Membership
$24.95 - Monthly Membership
$49.95 - 3 Months Membership
VISIT Teach Twinks NOW!
Do you remember that when you were young and at school how the teachers all looked so old? Even the top year of pupils looked old, but they weren't of course. Ok, hold that thought for a moment. Now then, have you seen any porn sites where there are older guys with younger twinks in classroom settings? I've seen a few of these and they serve to fuel some fairly dodgy fantasies. And they tend to feature the kinds of 'teachers' that we remember from school: fat, ugly and probably smelly, with little dicks. And the point is...?
Go back to that held thought. What would your college or school days have been like if your teachers had been only slightly older then you, if they'd been sexy and young, hung and good looking? Ah ha! That's the point you see - because that's what Teach Twinks is all about. Young twinks in classrooms getting lessons in love and lust from equally as good looking but only slightly older teachers.
It's a great new twist on a rather tired old theme.
And then it gets better. Your membership comes with access to four twink sites, so there is plenty of youthful flesh to enjoy, But we're in the classroom and there were 25 exclusive scenes dating back to the start of the site in April 09. That's an update schedule of one new episode every week, in case you were wondering. Go to the Kayden and Kaiden scene if you want to see a gorgeous boy being ass pounded across a desk by his gorgeous and young teach; go to the Braden and Ethan scene if you want a sensual space fantasy scene,
(the 20 year old teacher was daydreaming, hence the side-step away from the usual classroom content)
; or go to the latest scene for a trio of top twinks teaching each other the finer points of colon massage. Whatever you view you're going to get high quality images, from samples to full sized galleries, and high quality movies.
You can stream the episodes in four qualities of Flash and jump trough the scenes while you do so, you can also download in WMV or MP4 in two high quality resolutions too. The moviemaking is good, there are nice close ups, long shots and some great intimate moments. And you get the benefits of not only natural sound, but natural looking twinks too; long hair, school-boy faces, even some sucking lollypops as if we needed to be reassured that they are only 18.
As you go through the corridors of naughty movies and pics, you can rate the content and have your say. You can also easily click to the galleries, back to the episode list or over to any of the other sites available. Navigation-wise there are no problems here, the pages load nice and fast, the links are all clear and there are decent descriptions and texts to read that set you up with some background. It's all well put together, horny and stays on its theme of youthful teachers and youthful pupils.
Bottom Line:
Teach Twinks - a great new twink site - holds to its promises and to its theme of sexy young twinks with their classmates and young teachers. It comes with access to Lollipop Twinks, Beddable Boys and Best Bareback, from the GayLife Network - so quality is assured. Everything here is good quality, better than good on most occasions, the boys are original and youthful, the scenes are exclusive and well made, the sites are well maintained and easy to access, and you get really good value for money with ongoing updates.
VISIT Teach Twinks NOW!
VISIT Teach Twinks NOW!