Suck Off Guys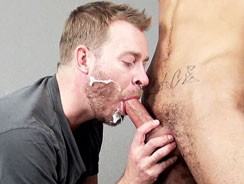 JUB Site Rating:
1 total vote





Suck Off Guys's Billing & Pricing
Suck Off Guys's primary billing processor: Ccbill
$26.95 recurring at $24.95 per month
$64.95 for three months recurring at $19.95 every month
$79.95 for three months non-recurring
VISIT Suck Off Guys NOW!
Here's another site from a couple of guys who love their sex and their porn. They've got a bareback site too, and when you access that, or this, you get to access the other, and then another one... so you've basically got three sites for the price of one here, they are exclusive, well put together, good quality and your membership payments go down after the first time period. If that's not enough to tempt you, then how about this:
There were 42 scenes when I called in to Suck Off Guys and each one was as perfect as the one before. Unsurprisingly this site is all about blow jobs, but it's not quite as simple as that. You get varied amateur guys, two webmasters/porn stars who know what they are doing, you get facials, some group suck shoots, loads of jizz, ass rimming and all kinds of sexy things in between, but with the emphasis always on the sucking.
Find a video from the All Movies list
(the home page is full of update news rather than images)
and then click the view button. You find a page with large sample images, good descriptions, links to galleries both caps and digital, and two download options for WMV. And you have big, impressive Flash stream to run the movie instantly - or as instantly as your connection will allow. It's quite a big file as it is such a good resolution so be patient. It works perfectly at full screen mode and the quality is spot on - no worries there.
The movies get you right in close to the suck action, after some chat and a strip perhaps. The camera concentrates on the mouth and cock one minute and then moves around the guys the next. You get a good mix of guys in these films, with some very straight and straight-looking dudes coming along to make money. There are guys with tatts, some younger almost twinky types, you get some amateur lookers, some alternative dudes, guys in the woods, a group party at home, blondes and redheads... our hosts Aaron and Seth have gone all out to find us variety and great looking models.
To go along with these exclusive cum-fest, face-splatter movies, you've got screen cap galleries. Don't groan, these are good ones. Taken from the HD camera they are clear and focused, where movement allows, and they are certainly well stocked in terms of numbers. You've got loads to collect here
(and I mean loads as in wads of cum and numbers of pics)
and you've also got digital galleries. These are separate and contain less pics but even better quality ones. All these images open in Flash.
And for extras: you've got the two bonus sites and you've got a page of outtakes and behind the scenes footage which make for a slight change of tempo and which are good fun to view. Check back to your home page for the full list of site updates and links to the bonuses, and here you also find a set of polls to get involved with. You don't really get any other interactive options here, but you will be so busy enjoying the suck-fest that you won't care about that.
Bottom Line:
Another top quality themed site from Aaron and Seth and one that, like their others, delivers on its promises. Horny cum shot and cock sucking movies with great quality vids and galleries, regular updates, bonus sites and a reducing membership fee. Totally tops!
VISIT Suck Off Guys NOW!
VISIT Suck Off Guys NOW!