Rockettube Vip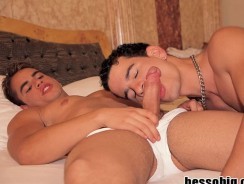 JUB Site Rating:
1 total vote





Rockettube Vip's Billing & Pricing
Rockettube Vip's primary billing processor: In House
$2.95 for a two day trial
$29.95 for one month
$7.45 per month for 12 months
VISIT Rockettube Vip NOW!
What you see sampled on the tour pages of Rocket Tube VIP is what you see once you log in. And I just saw Blair Mason looking cute and available. Mind you I also saw some really fat guy sitting on a black guy's dick, which was a bit unwelcome, but at least you know you are going to get variety here. You can fully check the tour by sampling the free parts of each available scene but it's not until you sign up and in that you really start to get treated like a VIP.
There were 727 videos when I was in the VIP area and these are all shown across index pages, there are the top sets and pics sampled here too - you don't just get videos you see, you have galleries too. Once you've clicked the video tab you get a category list to help you find what you want to see and you are also told the numbers of movies in each category. In that sense your members' area runs pretty much like a VOD or DVD theatre, which means it's easy to navigate.
Settle on a video - there's that fat and hairy hulk again, I'll avoid him, not my thing... and so I will go for the 393 videos in the Twink category. Now I can view the index pages as thumbnail sample or as bigger samples with more details. I have to say that on first glance I wouldn't call all of the guys here twinks, there are some older hairy guys dotted around and in scenes together, so maybe some more filtering work needs to be done by someone in charge. But there are certainly plenty of sweet youths to view in the scenes. I am also trying to find out if these are exclusive scenes (don't be silly) or from what studios they come. I've found a scene with Sean Corwin, Jesse Jacobs and Blair Mason and, as I've recently seen Sean on his own site within a certain network, I am assuming that this scenes is not exclusive to Rocket Tube VIP - but that's the idea of Tube sites isn't it? They're not exclusive content but collections of other
(hopefully)
licensed in pieces.
Confusion over - doh! Checking the top menu I see Gay Stars as a model index, which gives the game away. These scenes are from that hot and great network where you also find Twink Boarding School and Barely Twinks - so at least my current scene is exclusive to that company, though not all of the others can be as there are nine studios listed in the Studio index and that fat, hairy hulk wouldn't appear at Twink Boarding School... Anyway, I'll leave that up to you to figure out as I go and watch this horny three-way with Sean and Co.
Right, done that and just calming down with a cold cloth now. Great scene, good viewing options and great extras. The Flash ran nice and fast, the movie was well made, the sex was hot, there were chances to view screen caps and to download the scene in full WMV and MPG files, clips and MP4 versions too; there were links to the boys' model index entries and to other videos they appear in, plenty of information and loads of other neat little extra functions such as 'add to favorites' and vote. And when you get to the galleries you will find not only good quality pics but zip file downloads too; plus links to any videos that relate to the galleries.
Bottom Line:
Having finally figured out that this is a mix of exclusive and non-exclusive content I was able to settle down to viewing hundreds of hot scenes, in various genres, loads of cool galleries and then I started to explore the many interactive functions and options. You can't really put Rocket Tube VIP into a genre as it covers all kinds, but it's like a big DVD theater that links into some hot sites, it works really well and it's great quality all round. Well worth the very reasonable sign up fee.
VISIT Rockettube Vip NOW!
VISIT Rockettube Vip NOW!