Dancing Bear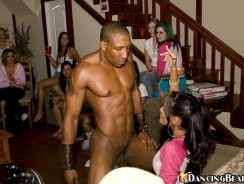 JUB Site Rating:
0 total vote





Dancing Bear's Billing & Pricing
Dancing Bear's primary billing processor: In House
$1.00 for a two day trial, recurs at $39.95 a month
$24.95 for one month, recurring
$89.95 for one year
VISIT Dancing Bear NOW!
Don't think 'bear' as is in hairy guy with moustache and checked shirt; think bear as in a stripper wearing a bear's head, and then think bare, as I nothing on. Now start to think about wild women at parties, who have booked said stripper for their event. Ok, now think around the issue and think hunks and hung cocks, hard cocks and spurting scenes, wild parties and all hell let lose. That's basically the set up at Dancing Bear; you get a horny stripper and a group of up-for-it women, but don't panic, the women stay clothed and it's the bear who takes it all off and reveals everything. This is a great site for fun and horny activity, and you could use it to get off to, or to entertain your friends. It's all exclusive to and comes from a company who specialise in this kind of original, sexy entertainment.
Is it sexy? Yes it is -it's kind of straight meets gay in terms of content in that there are straight dancers/strippers and the girls, and there is some straight 'touching up,' and girls giving guys blow jobs and jerking off men is straight I guess, but you don't get too bogged down with that ladies. The camera concentrates on the men, and what's between their legs, which is often very impressive. So you end up with the chance to see some mild straight sex but with lots of horny guys as the main attractions.
The parties are filmed exclusively in all kinds of places and there is a lot of background and build up. That's the fun part, as the guys entertain, strip and whip their ladies up into a frenzy. Then comes the sexy part as they grab that tool and start playing with it, sucking it, having competitions to see who gets the jizz-load and so on. Mad and frolicsome, horny and well made.
You can stream the videos in Flash in full length scenes, and they can be very long, or in clips. I counted 15 movies so far and updates do happen; though I didn't see any downloads, so you'll need to stay around to catch all the movies and a faster connection is going to help you out here. The quality is good and you can go full screen where the quality stays just as good. Each episode comes with a photo set with digital shots and a set of screen caps too, so plenty of chance to download the up close pics of the hunky dick there. There are many pics in each set too and the digital size is up at 800 x 530, which is just right for your screen. There's information too, and upload dates and, to find out what's coming next, you've got a page telling you just that. You'll also notice links to other CFNM sites - that's clothed females, naked males, and there are also menu items to take you to some extras, which actually are adverts for more similar sites - but worth a look around.
Navigating Dancing Bear is easy, the text is well written and clear and you really do come away with the sense that you've attended one of these very naughty parties.
Bottom Line:
You've got a nice collection of specialist clothed female, naked male content here - wild parties where the strippers go all the way. There are great looking guys, huge and hard cocks, good filming and good visual quality, plus image galleries that you can collect. For a chance to see real straight action, but with a gay aspect to it, this is a great place to come.
VISIT Dancing Bear NOW!
VISIT Dancing Bear NOW!