Boy Gusher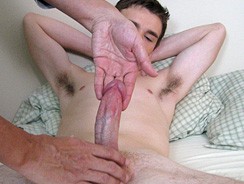 JUB Site Rating:
1 total vote





Boy Gusher's Billing & Pricing
Boy Gusher's primary billing processor: In House
$1.00 - 3 day trial (rebills at $34.87)
$6.96 - 7 day trial (rebills at $34.87)
$9.96 - 11 day trial (rebills at $34.87)
$14.96 - 20 day trial (rebills at $34.87)
$34.87 - monthly (recurring)
VISIT Boy Gusher NOW!
Sometimes I like a little cream in my coffee, and sometimes I just want a big old milkshake. Porn is kinda the same way. Sometimes you want to watch videos for all the different ways guys can have sex, who gives the best blowjobs, you can't wait until your favorite model bottoms... and sometimes you just want to watch the hottest twinks spurt huge fucking loads of hot goey jizz all over themselves. Luckily, for just such an occasion, there's BoyGusher.com.
First and foremost, these guys are adorable. Young, lean, not too much muscle and so full of jizz they're ready to burst. These are not your typical solos, as each video has either a duo with one guy guiding the action, or an unseen director who's hands reach into frame caressing smooth chests, pulling down baggy jeans or fondling an eager set of cock and balls. They say the only thing between a gay man and a straight man is a six pack, well they could have also said a video camera because a lot of these guys are said to be straight yet as soon as the camera is rolling they're more than happy to give the director and you at home a fully guided tour of their beautiful bodies.
The site is easy to navigate and has a cool look to it, bright red with big splatters of white jizz, hinting at what's to come. Each video has a story telling you who the models are and how they came to be on the site. Each one also has a full photo gallery of photos, which are really just stills from the video. Nice if you like that sort of thing but if you're like me and prefer a high res photo shoot with original photography then skip the photos and go right to the video. And here's where you get choices, and this puts as much a smile on my face as a hard cock shooting its load. You can view your choice of short clips of the entire video through either Windows Media or Quicktime, in both Medium and High formats, so you can decide which will play better on your system. And once you figure out if a particular video is for you, you can download the full movie in both formats and sizes as well. And there's a flash player for hands free viewing of the entire show.
And once you get your fill of all the delicious gushing boy cream, you'll also get a bunch of bonus sites like Ass Lick Boys, College Boy Sex Parties and Broke College Boys. Hey, if ya came here for Twinks you're not gonna want Bears in your bonus sites, right? There are also some nice solo model sites in there too featuring Josh Tucker, Chip Carson and Alex Dark. There is also a link for live shows but it wasn't working when I wrote this review, so I can't really comment on it.
I do have to say that I wish there were more. There are eleven videos on the site as of the writing of this review and while they are great I would want more, and I don't know how often they update. But the addition of all those bonus sites adds t the value of a membership.
Bottom Line:
Certainly quality over quantity but totally saves you the trouble of scouring the net looking for sexy twinks shooting gushers of cum and with a nice collection of bonus sites as a perk I would have to tuck this away into my arsenal of useful porn sites.
VISIT Boy Gusher NOW!
VISIT Boy Gusher NOW!