Dominic Ford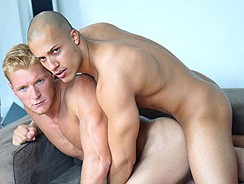 JUB Site Rating:
0 total vote





Dominic Ford's Billing & Pricing
Dominic Ford's primary billing processor: Ccbill
$24.95 - Monthly Recurring ($19.95 per month after 3 months)
$34.95 - One Month Non-recurring
$64.95 - Three Months Non-recurring
VISIT Dominic Ford NOW!
I've seen the future of porn... and it poked me in the eye. Well, okay, maybe I'm being a bit dramatic here, but at DominicFord.com the guys are not only jerking off and fucking, but they're all in your face about it. Literally. Imagine a collection of hot as fuck porn videos in 3D! With your paid membership they'll send you a free pair of 3D glasses so you can enjoy porn like you've never seen it before. Imagine huge cocks looking so close you can practically taste them! The movies are currently in Anaglyph format, which is with the traditional blue and red glasses, but they hope to explore other methods, such as the polarized version like you see in movies today, as the technology becomes available. And once you've been a member for 6 months, they send you their "Pro 3D Glasses" which are all plastic and fancy. I guess they figure the paper ones they send you first will be all soggy with lube by then and falling apart. Smart move.
Not a fan? 3D give you headaches? Got a glass eye? Never fear, all of Dominic Ford's movies also come in glorious 2D, which is your regular flat videos and photos. But even though they are not jumping out at ya, the videos and photos are of such high quality you won't miss the 3D gimmic since you'll be too busy lusting after the hot guys.
And you'd think having something this cool they could pretty much get anyone to be in the videos and you'd be happy, right? Not a chance. This is a who's who of well known porn stars all getting into the action. Big names like Rick Bauer, Giuseppe Pardi, Robert Van Damme and Ricky Sinz all get it on right in your lap. And I was a little freaked out seeing Matthew Rush deep throating the disembodied cock of Eddie Diaz until I realized it was a scene from Dominic Ford's upcoming Harry Potter parody, "Whorrey Potter and the Sorcerer's Balls."
As with any great new technology there are always a few drawbacks. The online streaming videos come in one size only, so if you don't have a great connection the streaming videos might not work as well and you can't choose a speed that fits your system better. However, to remedy this the site allows downloads in a small and large quicktime format as well as a file optimized for your iPod. 3D porn in your pocket. Way cool.
With a hundred videos currently on the site and at least two more added each week there's a lot to choose from and reason enough to keep coming back. The site is well done, extremely easy to navigate and even has search filter to help you find exactly what you're looking for. And you can browse by video or by model.
Bottom Line:
Hot porn featuring big names with big dicks, frequent updates and 3D. This one's a no brainer.
VISIT Dominic Ford NOW!
VISIT Dominic Ford NOW!