Bait Buddies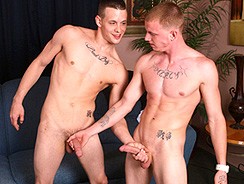 JUB Site Rating:
0 total vote





Bait Buddies's Billing & Pricing
Bait Buddies's primary billing processor: Ccbill
$14.50 3 day trail renews at $26.50 every 30 days
$26.50 30 day trial renews at $26.50 every 30 days
$69.50 90 days - non-renewing.
VISIT Bait Buddies NOW!
Bait Buddies is where straight meets gay by mutual consent, and the changing hands of certain amounts of cash. But it is not one of those sleazy 'gay 4 pay' sites where you're never truly convinced if the straight man really is straight or just an actor. They take their sex seriously here and they are genuinely interested in what the straight guy feels about his often first gay experience. So what I am saying is that you have a classy set-up, and one that delivers on its promises.
What you see on the tour is exactly what you see in the members' area, it is so similar you will be forgiven for wondering if you have logged in. The way to tell is to try out a video and see if you get the full thing, if you do then you are up and running. You've got 134 movies here so far, they are all HD and they are all exclusive. They are also all duos as that is what the site is about. You've got the gay guy
(or sometimes a straight porn actor who does gay, like Kurt Wild)
as the 'bait' and a genuine str8 boy as the 'straight.' There are even those words over the stars in the sample pic in each videos main viewing box.
The movies start off with interviews, so you get to know your guys, and they finish with after-interviews too, so you find out what the straight guy thought of his experience. These are not simple movies where you open on two guys making out, these are in depth and quality films. If you want to skip the chat though then you can use the Flash player slider to jump around. You'll find four choices of Flash quality, which should suit all connections, and you're given an HD WMV download too. Once the chats are over the action stars, the guys play with themselves to get hard, they take each others cocks, then move on to some sucking, and they then get persuaded to try the anal; sometimes the str8 is the top, and on special occasions he is the bottom, which is very tasty to see. As are the impressive sizes of some of these dicks, eye watering or what? The guys are usually hunky, husky, macho types in their 20's and 30's but if you search around you'll find some twinks, and some older dads.
Each movie has a gallery attached and this is found in the same viewing box. When you open a movie you have the others from that page still there, but below a well designed viewing 'box.' In here are the Flash player and details, an add to favourites functions, your chance to rate the scene, a place to comment, a help page and a weekly poll. And also the galleries. You can download each in one file or open individual pics one at a time and browse. They are a medium size, and like everything else here they are fine in terms of quality.
So, vids and pics covered, with everything still on target and very rewarding, what else does your membership bring you? I was able to use my log in details and click into Island Porno.com, a link I found in the top menu. Here I had videos, DVDs and games by way of bonus content. Back on the main site there is also a blog to read, your favourites area and a newsletter to sign up to. Neat little extras that simply add to what is already a great site.
Bottom Line:
Although you might say that this is not the largest of the 'gay 4 pay' sites, I've giving it top marks because of the way it treats it's straight guys and its members. Of all the S4G sites I've seen Bait Buddies is probably the most genuine, and it's certainly got worthy content, great movies, good viewing options and a really neat design.
VISIT Bait Buddies NOW!
VISIT Bait Buddies NOW!