Mike Hancock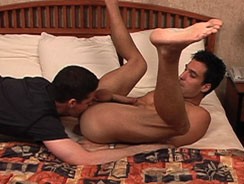 JUB Site Rating:
0 total vote





Mike Hancock's Billing & Pricing
Mike Hancock's primary billing processor: Ccbill
$24.95 for 30 days recurring
$27.95 for 30 days one-time charge
$59.95 for 90 days, one-time charge
$99.95 for six months, one-time charge
($34.95 for all three sites, 30 days, reducing over time)
VISIT Mike Hancock NOW!
This is Mike Hancock's private collection of his own porn movies and galleries. He actually has three sites and there is an option to join all three in one go, with a sliding scale of membership - the longer you stay a member, the less you pay. But let's look at the guys at the simply named Mike Hancock site.
Where to start? There are 13 index pages bringing you 152 exclusive movies so far, and each one features a hunky straight looking, or actually straight, guy in each movie. These men are not afraid to try something new. There are some great first time fuck scenes, straight guys enjoying toys in their ass as a new experience, solos, -helping hand' movies where a str8 gets jerked by another guy, and some totally hot fuck scenes. I particularly liked Slammin' Stiffy as the top guy kept his clothes on, but that's another story - check it out for yourself.
The top menu is easy to follow as it takes you to the main area, the Videos, then to a model index with 119 amateur, good looking and varied guys, there's an About page, a link to Mike on Twitter, and a help area.
Back to the model index. Search through it to find a face pic of a sex bomb you want to see more of, I chose a youthful Bryan, and click him to get to his main page. Here you will find stats and links to his appearances. These stats are more than the usual information, as if the model had been interviewed, so that's' a little extra for you. And when you get to the movies themselves you will find more of a write up on the synopsis page. Click the next tab for the pictures from this scene and there you get a collection of video stills. We're told that this is what these are so you're but being promised HD pics and then finding screen caps - you know that's what you're going to get. Sadly the first ones I saw were only 320 x 240 in size, but they were from back in 2006. Looking at some more recent galleries I found larger sizes at 640 x 480, so that was better.
Back to the sexy Bryan and the sample video. I found a choice of full length, high or low bandwidth movies, plus the movie divided into segments, these were available for download or stream (keep your username and password handy) and they opened in a WMV player. I found the 320 x 240 screen was actually ok to view even at full size. The more up-to-date movies streamed at 764kbps @ 720 x 480, which was just right.
So technically you should be ok in here and you should have no trouble with navigation. What you might have trouble with is keeping your dick down as you watch these straight hunks get milked by Mike and co. And the fact that this is often their first time experiencing man on man sex simply makes the hot scenes hotter. The guys are the stars for sure here, though the direction and filming quality is good too. (And Mike is cute!) And it's that fact that these are ordinary guys trying extraordinary things that makes Mike Hancock stand out as a porn maker, movie star and website.
Bottom Line:
Exclusive scenes, easy to access and featuring some hunky first timers, that's the main drive here at a site that presents you with good quality content. This is just one site in a group of three, and my advice is to take up the network pass offer, which reduces in price over time, and make sure you benefit from everything that this outstanding network has to offer.
VISIT Mike Hancock NOW!
VISIT Mike Hancock NOW!