Alternadudes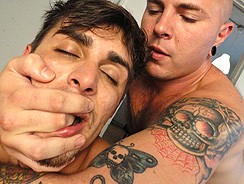 JUB Site Rating:
0 total vote





Alternadudes's Billing & Pricing
Alternadudes's primary billing processor: Ccbill
$7.95 for 3 days then $24.95 recurring every 30 days
$29.95 for 30 days then $19.95 recurring every 30 days
$99.00 for 180 days (non-recurring)
VISIT Alternadudes NOW!


Since it started in February 2009, the site has been updating regularly, so you've now got over 100 exclusive and alternative scenes to watch. But what makes these guys and scenes different? Well, it's the men and the boys that do it. There are guys with tats, unusual looking men, Emos, Goths and students, Rockabilly guys and Skaters, you name your favorite kind of 'alternative' guy and you're probably going to find him in here. Either in solos or in hardcore scenes, there's a nice mix of guys and content.

And the content is well made, which is another reason for liking the site. You've got a very simple way to watch your movies; there are various qualities of streams to run and you can view low to HD versions of each scene, with an iTunes version and access as well. Go full screen even on a medium quality stream and you've got a perfect resolution, great sound and really good action. There are some neat couplings too and some chemistry between the guys, even when you've got a punk fucking a smooth twink you've got something really horny going on between the models.

And if you want another good reason to view this site, and another something else to like about it, then how about the chats and interviews, and even the music DVDs that come with some scenes? You get more than a few movies to stream here, you also get neat extras, and original ones at that And these, like the hardcore and the solos, can also be downloaded in full WMV versions or in full length scenes formatted for iPods and the like.

Movies also come with photos, and the galleries are well stocked. You find them at the bottom of each scene's viewing page after the lengthy and good descriptions. Images open up to a couple of sizes, and even at the full size of 1,920 x 1,440 I found them clear. Here you've got slideshows to run, easy downloading and you can also rate the images as you go. If you want to check out the content by the guys, you've got a model index to look through and there were 93 varied and alternative Alternadudes when I was in the site. The great thing about this model list is that you have a decent set of stats with each guy and instant links to his movies and galleries. You can also vote for him and leave comments.

In fact you get nicely interactive here, yet another reason why I like the site. But I also like the 'add to favorites' function, the six pages of exclusive extras (behind the scenes, calendars, wallpapers etc.) and the regular blog. The standard of this site is right up there with the best of them and the fact that you're never going to see anything else exactly like what you see here is just another reason why I'd urge you to join up.

Bottom Line:
For alternative guys, hardcore, tats, punks, skaters, you name it, for all kinds of unusual guys and top sex scenes, great quality, originality and exclusivity, Alternadudes is the number one place to be. Can't fault it really. It's going from strength to strength and gives us a great, healthy alternative to the same old same old porn.
VISIT Alternadudes NOW!
VISIT Alternadudes NOW!