Hung Down Under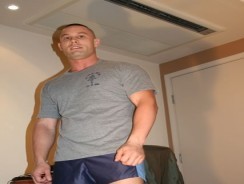 JUB Site Rating:
0 total vote





Hung Down Under's Billing & Pricing
Hung Down Under's primary billing processor: Verotel
$29.95 per month
VISIT Hung Down Under NOW!
Ok, so there is not a lot of information here, the site looks like it's in the hands of an enthusiastic amateur and thus may strike you, at first, as being old fashioned. But the title had me hooked, not just because of the promise of hung guys but also because of the play on words. Well, I'm like that. Hung Down Under works on two levels for me, as a title: hung guys from Australia and hung down... well, down under.
Anyway; once I fought my way through to the join page - It's a simple link by link process to get to the Verotel sign up page, and once I'd then gotten into the members' area
(nice and easily)
, I was faced with the continuing bright blue background, a large page and a set of images. There is some text, 'welcome, thanks... Jake' which strikes me as being friendly and amateur, but I mean that in a caring way darlings.
There were 17 images to click in the videos list and seven in the pics area. I clicked the first video and discovered that if you do that the MOV file starts to open, but you will have to wait for it to fully load and then stream. Right click and 'save as' is better as you can go and view some pics while you're waiting for the download; the speed was around 80kbps which is a decent transfer rate.
So as I was waiting I checked one of the galleries. Simply click a pic for the page to change and you have another basic layout with a title, and then thumbnails. There were 65 in Chad and Christian's set and these clicked up to 500 x 333 in size, opening on their own page with the basic file name and navigation links. Next I checked out Brendan, who had a solo gallery of 75+ pics at 500 x 750; slightly better in the quality department. The good thing about all the content that I saw was the fact that the guys were hung. Yes, they sure are. Real guys, sexy guys too, and all very well hung. There were solos and some action ones, which were mainly blow jobs, and a real Tube style, amateur feel to a lot of them. The only problem with the galleries was having to back button back to the home page to start a new one - we could do with some links on the thumbnail pages here.
Ah ha! My download has arrived. A MOV file at 747kbps @ 528 x 313 in size. A three and a half minute long scene with one guy blowing another
(very well hung)
guy as a porn movie plays in the background. There was no cum shot at the end so maybe this was just part one of something, excuse the pun, longer. I hung around for another download and started to wonder if the site couldn't be better designed. Yes it could, to be frank. More viewing options, more information about the guys, more... well more of everything really. But as I say, there is a sweet amateur feel to the whole thing, like someone is having a go at making some porn and some money, and so we should support it. I'm only giving it a low score because it's short on content and design. But for really well hung guys and effort - top marks.
(BTW, the second download was a fuck scene, a guy with around 12 inches, lots of noise but no cum shot.)
Bottom Line:
It's basic, it's amateurish, it's very, very simple in design, it has no interactive features, no information and no extras. Hung Down Under is one of the most basic sites I've ever seen, but there is someone enthusiastic behind it and you get a few amateur cocks to view. If someone took hold of the design and they dropped the price to say, $9.95 a month, told us if and when more content would be added, we'd be a lot happier.
VISIT Hung Down Under NOW!
VISIT Hung Down Under NOW!