All Real Bareback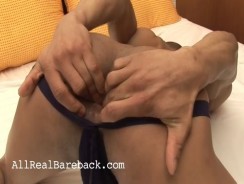 JUB Site Rating:
0 total vote





All Real Bareback's Billing & Pricing
All Real Bareback's primary billing processor: Paycom
€7.95 for a 7 day trial
€18.95 per month recurring
€37.95 for three months recurring
€59.95 for six months recurring
€74.95 for one year recurring
VISIT All Real Bareback NOW!
OK, so you are thinking, 'is this just another bareback site, or is there something special about it?' Well, I'm here to tell you that yes, there is something different about it, and yes it is a bareback site but it's not 'just another' one. For a start it carries an intriguing blog which, when I was in there, was taking me around Europe on some kind of trip, telling me about scene that were being filmed. There were no images on this blog so it's more of a news feed or update list, but it was still interesting. But the main thrust of the site lies in its videos of course.
There were 78 of these and they dated back to the start of this year, which makes for a good update schedule. I noted there was also a calendar of what was coming soon and this was showing a new video each week for the next couple of weeks at least. The very first video put on the site came with a stream and an 'HD Mpeg-4' download. It looks like that is it for viewing choices at this site. The stream was a decent size and was ok at full screen, though if you're on a slow connection you might have some issues. I found that the buffering happened fast (on a mid-range connection) and the stream worked fine.
Some of these movies were photo shoots, showing you what goes on behind the scenes, while others, most actually, gave full on hardcore action. Some of this started straight in with no introduction, like you'd come in half way through a scene, and a lot of them were taking pace in hotel rooms, giving an interestingly seedy feel to things. I had no complaints with the making of the movies, or the quality of the bareback action , but what did jar a bit with me were some of the descriptions. Example: 'Jason craves Chris's lengthy tool deep in his wet manpussy.' I mean, dos anyone every refer to someone's ass as a 'man pussy'? Really?
Anyhow. Moving on to the models themselves, you've got hot and good looking amateur hard guys here. Power bottoms and tough tops, and a model index in which to find them. 23 hung and rough looking guys (no offence intended) are shown to you in good sample images that lead to brief description or bio pages. Some have more info than others, there are tabs to take you to sets of images or videos, and it looks like there may even be Q&A sessions with some of the guys.
As you browse around the site you are able to rate things that you see, and there are also places where you can enter comments. You can like or dislike things with a click and you have an add to favourites function to make use of as well. Navigation is easy, the pages are actually very simple and there is no chance of getting lost. You have a search engine, and a choice of several languages to translate pages into though this only seemed to change the main words, not the descriptions of scene or guys. It's a sensibly arrange members' area and presents no troubles.
Bottom Line:
I guess we're looking at European bareback at All Real Bareback and there is no doubt that the title fits exactly the kind of content you get. The guys are genuine, look like the kinds of guys you could meet in a Berlin back bar, and are all built and powerful. The quality is fine though there's not a lot of choice for viewing, you can get slightly interactive and there is something nicely dark and naughty about the filming of the movies. Worth a look? Yes, for sure.
Videos are DRM Free and Downloadable
Safe Sex Notice:
This gallery contains images of unsafe sex practices, also known as barebacking. Engaging in sexual practices without the use of a condom is a risky and unnecessary behavior. There are a lot of studios including the one listed on this page that film bareback or have bareback scenes in their content libraries. The images presented below should only be used for fantasy and you should not deceive yourself into thinking that "everyone is doing it." Further, you should not assume that just because you see photos or film content of barebacking that sexually transmitted diseases have been miraculously cured. HIV and other sexually transmitted diseases are very real and potentially lethal. Please practice safe sex in your own life and educate yourself regarding the dangers of not wearing a condom before having sexual encounters. Visit AMFAR for more information about safer sex.
VISIT All Real Bareback NOW!
VISIT All Real Bareback NOW!