Clothed Female Nude Male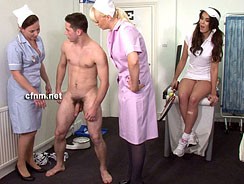 JUB Site Rating:
1 total vote





Clothed Female Nude Male's Billing & Pricing
Clothed Female Nude Male's primary billing processor: In House
$39.95 for the first 30 days, rebilling at $34.95 every 30 days thereafter
VISIT Clothed Female Nude Male NOW!
I've just had a quick look at the tour of Clothed Female Nude Male (CNFM) and I am chomping at the bit to get in and see the real deal. You know, this is the first time I've seen this site, or any site like it, and so far the concept has me switched on. Don't panic if you think this is going to be straight sex - we shall see - but on first inspection the idea of sexy young guys stripped by gangs of clothed women seems not only original but strangely erotic...
Oh boy! Members' home page: loads of pics of sexy bois and the women are dressed so I can block them out (no disrespect), loads of links and samples too and a neat design that looks easy enough to follow. There are six areas to explore, plus stories a forum and a TV area (not transvestites but television), I don't know where to start.
The left links take me to galleries and there are literally hundreds. There are various themes to with sporty guys, college classrooms, auditions, domination and another area for everything else that doesn't fit the main themes. These are all galleries, they have various amounts of pics each and individual images open up to various sizes, depending on what camera they came from, digital or video. But everything is easy to open and view and there's only a certain amount of back button use needed to return to the home page. Needless to say the antics are horny and fun, the boys get stripped, examined, punished, teased and played with as though they were simply toys - which they are in a lot of this hot content. And that's just the gallery area.
Check the TV department (new window so no getting lost) for CFNM movies. Again there are categories here with adventures, dares, 'doing it for cash' and 'real life.' There are trailers here and still galleries to show you what's in each scene. but then comes a but: you will have to either sign up for the TV site or buy the titles individually - so that's another $39.99 a month needed to view the videos.
Did that let me down? Well, I guess not as we weren't promised videos on the tour, and there are plenty of galleries. But it does leave you thinking that for a little extra payment we could have got the vids, some at least. I mean I wouldn't mind paying a little more to see some moving images of these sexy lads getting naked and chased, tortured, whipped and played with.
At the end of a nicely long day you are left with a large set of galleries for your membership fee, and the extras including the forum. But as there are no slideshow options or zip file downloads you're going to be spending a long time clicking through each gallery one pic at a time, which rather takes the edge of the experience. Particularly as there are trailers playing on the main pages, but trailers from the videos that you must pay more to access.
Bottom Line:
So what you are left with here at CFNM is a great premise, an original set up and loads of galleries. The men are tops, the women stay clothed and there is a neat forum plus lots of adds for other interesting sites. But no videos that I could find, and you'll need to pay more to see them. As long as you know all that then you should be happy with this original and exclusive site.
VISIT Clothed Female Nude Male NOW!
VISIT Clothed Female Nude Male NOW!