Eric Deman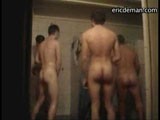 JUB Site Rating:
0 total vote





Eric Deman's Billing & Pricing
Eric Deman's primary billing processor: In House
$39.95 for the first 30 days, rebilling at $34.95 every 30 days thereafter
VISIT Eric Deman NOW!
I've recently seen a few of these Straight Lad sites and this one is like an amalgamation of all. The idea is that Eric Deman collects together clips and pics of voyeuristic moments from TV, film, amateur cams and possibly even self-submitted content from some other voyeur sites, and bundles them together into various genres for us to have a good old perv over.
And it works really well.
Whether you want to see the nude outtakes from Big Brother, a famous sportsman losing his jockstrap on the pitch, a hidden cam in a shower or toilet, or any other kind of classic voyeur entertainment then this site is going to have it. And it updates regularly too.
There are some downsides which we'll get out of the way now. The clips can be very short - a few seconds of a man getting out of a tub may not be enough to do it for you, but then others are longer. A fuzzy shot through steam of five rugger lads in a communal bath may be hard to see, but then other photos are clearer; and so on. But throughout the site the voyeur theme remains the same. And I have to say it is rather addictive. Maybe that's because you are always hoping for that perfect little scene, someone you know, someone getting a hard on, someone actually jerking off - they may be in here but with thousands of pieces of content you're going to need to spend a long time here to check it all out. And by the time you've done that there will be a whole host more to search through.
Actually there is a search engine to help you. Simply enter the kind of thing you are looking for and the results pop up in no time. As for the quality of what you find, well this is going to vary. Some of the (non UK) Big Brother clips were a great, clear quality and there were some very nice straights-flashing-cock moments, guys in the shower and even close ups of the dicks. These ones really made my day and will serve all us voyeurs really well. Others were cloudy and hard to see, various players were in use at various resolutions. It's a great big melting pot so don't expect classic Californian or European studio quality productions. And don't expect too much hardcore either, I didn't actually find any, but that's not what the site is about. It's about bringing you real moments with real guys - and girls - and letting your imagination run wild.
Actually getting around it is fairly simple as you should find links back to the home page or main gallery areas if you're searching the numbered galleries. The design is simple and almost amateurish at times, but it doesn't distract. There are advertisements for other similar sites which are worth a look, and a forum is mentioned. But when I tried it I was told it was no longer running. Updates are listed on the big home page, and it looks like there's going to be something new here regularly -in fact there are new things every day or so, so that's another plus point in the site's favour.
Bottom Line:
A neat collection of all kinds of voyeur clips from TV, film and elsewhere that will have you hooked and giggling, and hard, for days to come. There are some classic moments in here plus loads of things you won't have seen before. Trust me, this is a top voyeur site that updates very frequently and gives you loads of variety.
VISIT Eric Deman NOW!
VISIT Eric Deman NOW!