Broke College Boys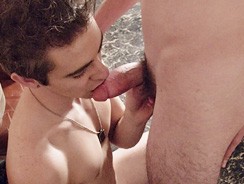 JUB Site Rating:
1 total vote





Broke College Boys's Billing & Pricing
Broke College Boys's primary billing processor: Paycom
Broke College Boys's optional billing processor(s): 365 Billing, Ccbill, Wts
$1.00 for a three day trial
19.87 monthly
VISIT Broke College Boys NOW!
BluMedia brings you Broke College Boys, a new site that's riding on the back of the current trend for 'real amateur guys.' Oh no, not another one! You may think, but hold your horses and prepare to hold your dick too - this one is good. Whereas many others simply drag guys from the street, pay them and hump them, and while others use professional gay models as 'amateurs'
(shock horror)
and don't even give you the chance to decide if the models are first-timers or not, BCB gets it all right.
Starting with the very first episode, in the medium range quality player
(524kbps @ 640 x 360)
, I was able to listen in to the interview with the college boys before the action started. You should do this to assure yourself of their need to make money, and make sure that these sexy jocks really are simply doing it for the cash reward. You can also view in a lower quality version or the HD one at 3.14Mbps @ 1280 x 720, though the medium one was just fine. All these scenes, whether clips or as full length versions, can be downloaded too and there are no restrictions. Perfect.
The tour tells us that the guys are doing this to pay their way through college, and the boys are all college aged, just as we had hoped they would be, and so far there are 17 episode with a new one coming at you each week. Check out Hunter and Justin, just two of the smooth and sexy, action bois who get their dicks out for us. This is one of the hottest scenes and one that I couldn't help saving and playing over again. This couple are typical of the good looking youths who pepper the site and the videos, but there are also threesome scenes to view too - the cash must really have been flowing that day. The jizz certainly was.
Each scene has a write up with it where we are told an outline of what takes place in the movie, and you can cast your vote as you go, getting slightly interactive. As we are also told upload dates we can follow the update schedule and keep an eye on it; though I doubt you'll need to, Blue Media is an organisation you can trust to keep its promises.
You will find an area called 'The Students' and this is the model index. There were 14 classmates when I was in the site, each shown with a nice face pic and each having a dropdown list of appearances, so you can find who you like best and then click over to his movies. And to his photo sets as there are images with each scene. These open in a kind of player-console with clear navigation buttons for forward, back and home, and each one opens up to around 900 x 1200 in size. No zips or slideshows, but collectable nonetheless and all images are clear and sharp.
There are then seven more exclusive sites for you to go and view and these include some well known names: Alex Dark and Josh Tucker for example, bring you more youth and beauty, and College Boy Sex Parties to continue the campus theme. Great value eh?
Bottom Line:
It's new, it's very exciting and it gives you exactly what it says it will on the tour. Sexy young college guys desperate for some cash, who then get down to hot and horny gay sex while the cameras and the coins roll. It's exclusive, well made and there are regular updates. Then you get bonus sites, easy navigation and good customer service. What are you waiting for? Reality college boy porn at its best.
VISIT Broke College Boys NOW!
VISIT Broke College Boys NOW!