Semper Fuck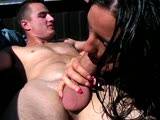 JUB Site Rating:
0 total vote





Semper Fuck's Billing & Pricing
Semper Fuck's primary billing processor: Ccbill
$15.95(USD) for 30 days then $24.95(USD) recurring every 30 days
$19.95(USD) for 30 days (non-recurring)
$19.95(USD) for 30 days then $19.95(USD) recurring every 30 days
$29.95(USD) for 30 days then $17.95(USD) recurring every 30 days
$39.95(USD) for 30 days then $15.95(USD) recurring every 30 days
VISIT Semper Fuck NOW!
Hard bodied marines are the main stars of the shows here, but there is a twist. This is a site for guys and gals who want to see real straight men in action, with the emphasis on the straight men rather than the girls. It's straight sex for gay eyes in that respect, and the About page on the tour lays this out for you nice and clearly.
I have to say though that the pricing structure was a bit more complicated than most. Study it carefully as there should be a discounted version for you in there somewhere. You can pay a lesser amount for your first month, then more on a recurring basis, or more on your first month followed by less...
But back to the men. Check the videos area in the members' department for 13 exclusives.
(New site.)
Here you will find couples and party scenes, with more guys than girls, but no gay sex. You have WMV and Quicktime in use for downloads and a Flash stream if you'd rather, run times are varied with some scenes running for up to 50 minutes. The quality is fine here, with images and visuals being nice and clear and the sound natural. There are intros and set ups to ease you in to the hardcore at times, but very little waiting around before your barrel chested hunks get their kit off and their cocks on duty. A nice range of cocks too, even if the guys are all fit, some are tattooed, others are older, some are younger, you still get real straight cock to enjoy. And the girls don't get in the way. That's the real trick with his kind of porn; porn that's made for gay boys and straight girls, but with genuine straight guys. We like to see straight cock as much as gay cock, maybe even more, and you are going to get flashes of pussy and female blowjobs, boobs and other private bits, but not enough to turn you off. I hope.
So, after your marine straight sex
(with lots of back shots of cute asses and close ups of hard dicks penetrating... )
, you have some other things to check in the menu. There is a link to an on demand theatre, and a page of Bonuses. These videos come from Active Duty, so a few more military hunks and their babes await you, plus lots of advertising for that site. Anyone can check the blog area to see what's new and what's going on behind the scenes and this blog also contains images as well as text.
But probably the biggest extra is the Free Porn area where you have a huge list of categories and studios leading to hundreds of clips from non-exclusive movies. There is hours of click-around time here, with MPGs to download. Ok, so they are only short clips (15 seconds) that serve to advertise the VOD theatre, but there are lots of them. You can also click into eight feeds sites by going back to the first of the videos pages and looking down at the bottom. Members get updates and news about what's going on, but I didn't actually see any upload dates with the content.
Bottom Line:
A small but interesting site that's about straight guys fucking girls, but filmed for a gay audience. Does it work? Yes, it does. The extras are really there to persuade you to view the VOD theatre but there are feed sites too. The best things about Semper Fuck though are the straight guys, the real marines, and their fit bodies.
VISIT Semper Fuck NOW!
VISIT Semper Fuck NOW!