Lost In Da Hood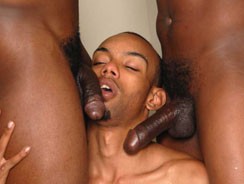 JUB Site Rating:
0 total vote





Lost In Da Hood's Billing & Pricing
Lost In Da Hood's primary billing processor: Ccbill
$14.95 for 5 days recurring at $29.95 every 30 days.
$29.95 for 30 days recurring at $29.95 every 30 days.
$69.95 for 100 days - One time billing.
VISIT Lost In Da Hood NOW!
It's not so much about getting lost in da hood here as getting lost in a large collection of varied, hot porn. You see, you get access to five sites with your membership and not just one, though I have to say if I had signed up for Lost In Da Hood and only had access to this site I wouldn't be complaining. Its 20 plus exclusive videos and galleries are well worth the reasonable sign up fee on their own, though they wouldn't necessarily warrant more than a month's membership - that's why you then have the other sites to explore and enjoy. With all of them receiving regular updates of new exclusives it is actually worth hanging in there as the weeks go by.
You'll get an idea of the style of the site from the tour with the rough street language and hardcore pics, hot black guys and their innocent victims. Once inside the attitude continues with movie titles such as 'Shoulda got da bus dummy' ('cos if you had you wouldn't have gotten yourself dragged into a car and ass fucked), 'Put down da map bitch' (and get in here and suck my eight inch black cock before I come all over your smooth chest), and 'Pretty boy gets it bad' (which should be self explanatory, though I'd say he gets it good and hard. The scenarios contain some simulated violence to add a reality edge to the story lines and there is dialogue, chat and a story. Usually with a reasonable amount of build up (sometimes a bit too much banter in the back of the car) before the sex starts and the videos fall into the more standard style of filming: close ups, long shots, hardcore grunting and everything you could want from a porn flick. With the added attraction of hung and tough black guys drilling white
(and black)
asses.
As for technicalities and viewing the movies: you will find a choice of connection speeds and more or less instant streaming. There is also a download option with each exclusive movie but no choice of file size or quality; you do get good quality downloads so be patient if you're on a slow connection. Galleries contain various amounts of images and although they are not big on size or numbers they are good quality and easy to navigate. You should also find that when you've started a stream the player, though embedded in your page, keeps playing while you browse around other galleries on that index page; if you switch to one of the other pages though it stops playing. The only other technical problem I had was a minor one; some of the pages took a while to load I think due to the flash player that's in the top of each one; again, be patient.
So you've done your rough and ready thugz in the hood content and you want something else while you await an update. In this case check the bonus pages for a list of feed sites with various genres of streaming sex videos and check out the four bonus sites that contain amateurs, straight doing gay and guys showing off their big dicks. It's a neat set of bonuses and extras that simply adds value for money to your membership.
Bottom Line:
Hard, tough thugz getting nasty with cute black and white boys is the main drive of the site. The videos are well filmed and tell a story, there is sometimes a lot of build up to each one but you're rewarded with a hot hardcore scene in the end. Viewing and downloading is easy, the quality is good, the site is easy to navigate and you have a good collection of extras and bonuses.
VISIT Lost In Da Hood NOW!
VISIT Lost In Da Hood NOW!